Ann M. Sperber Prize Judges
Laura Auricchio
She is is the Dean of Fordham College at Lincoln Center. Dean Auricchio received her bachelor's degree from Harvard University and holds a Ph.D. in art history from Columbia University. She is the recipient of a number of prestigious grants and fellowships, including a Whiting Fellowship in the Humanities; a Fulbright Advanced Student Grant; and others from the National Endowment for the Humanities, the Institute for Museum and Library Services, the Earhart Foundation, and the New York State Council on the Arts. Her book The Marquis: Lafayette Reconsidered won the 2015 American Library in Paris Book Award. Other publications include scholarly books, journal articles, and exhibition catalogs as well as dozens of exhibition reviews, book reviews, and magazine and newspaper articles. She has served on several book prize committees and is currently on the editorial board of Oxford Studies in the Enlightenment.
Meryl Gordon
She is is the director of magazine writing at NYU's Arthur L. Carter Journalism Institute, is the author of three biographies: Bunny Mellon: The Life of an American Style Legend (New York: Grand Central Publishing, 2017); The Phantom of Fifth Avenue (New York: Grand Central Publishing, 2014) about copper heiress Huguette Clark; and Mrs. Astor Regrets (New York: Houghton Mifflin, 2008) about philanthropist Brooke Astor.
Joan D. Hedrick
She graduated from Vassar College in 1966 and received her PhD in American Civilization from Brown University in 1974. She is now Charles A. Dana Professor of History at Trinity College in Hartford, Connecticut, where she has taught since 1980 and where she founded the Women, Gender and Sexuality Program. Her first book was a critical study of Jack London entitled Solitary Comrade: Jack London and His Work (Chapel Hill: University of North Carolina Press, 1982). Her Harriet Beecher Stowe: A Life was published by Oxford University Press in 1994. The first full-­length biography of Stowe in over fifty years, it won a Christopher Award and the 1995 Pulitzer Prize for Biography. Her most recent book is The Oxford Harriet Beecher Stowe Reader (New York: Oxford University Press, 1999). She is currently working on a study of nineteenth ­century American women and the amplification of their voices through the holiness movement.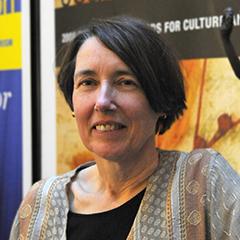 Beth Knobel
She is a professor teaching journalism in Fordham's Department of Communication and Media Studies. Before joining the Fordham faculty in 2007, she worked as a journalist in the United States and abroad, including seven years as Moscow Bureau Chief for CBS News. Her work for CBS News was honored with several major awards, including an Emmy. Dr. Knobel is the co-author with her CBS News colleague Mike Wallace of Heat and Light: Advice for the Next Generation of Journalists (Three Rivers Press/Random House 2010) and sole author of The Watchdog Still Barks: How Accountability Journalism Evolved for the Digital Age (Fordham University Press, 2018). She earned her undergraduate degree at Barnard College and her graduate degrees at Harvard.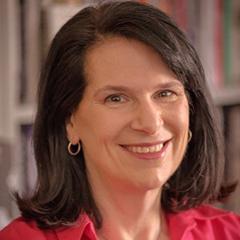 John Matteson
He holds doctoral degrees from Harvard and Columbia Universities. He was awarded the 2008 Pulitzer Prize in Biography for Eden's Outcasts (New York: W.W. Norton, 2007) and is the author of The Lives of Margaret Fuller, and the editor of The Annotated Little Women, also published by W.W. Norton. He is a distinguished professor of English at John Jay College of Criminal Justice in New York City.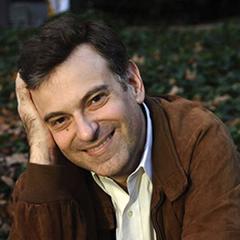 Alan Sperber
He is the representative of the Sperber family on the Sperber Prize Jury, being the son of the donor of the prize, Liselotte Sperber, and the brother of the late Ann M. Sperber. He is a board certified urologist who has written numerous articles that have appeared in medical journals. He has been an avid reader of biographies ever since Ann, who was seven years older, encouraged him at the age of 11 to read the biography of Benjamin Disraeli by Andre Maurois. He was frequently consulted by Ann in the course of her writing when medical issues needed to be clarified. He is proud to serve on the jury with the distinguished panel that has given the Sperber award over the past 15 years to only the best biographies and authors.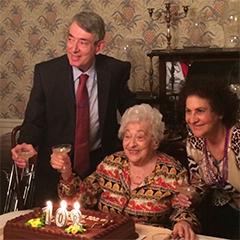 Alan Sperber with his mother Betty and his wife Betty on the occasion of his mother's 102nd birthday, January 19th, 2014.)
Paul Colford was a New York newspaperman for nearly 30 years, at New York Newsday and later the New York Daily News, writing columns about the radio ("AM / FM") and publishing industries ("Ink"), as well as the emerging internet. He joined The Associated Press in 2007 as vice president for global media relations. He retired in 2017 and has continued to offer commentary on media issues over the BBC World Service. He has written two biographies, The Rush Limbaugh Story (St. Martin's Press, 1993) and Howard Stern: King of All Media (SMP, 1996). He is a graduate of Saint Peter's University, the Jesuit school in Jersey City, New Jersey, and is also a Fordham parent.