Edward A. Walsh Media Lab
by: Media lab staff
The Edward A. Walsh Digital Media Laboratory is directed by Mr. Hopeton Campbell and is under the administration of the communication and media studies department. The lab was founded in 1997 and is named in memory of Edward A. Walsh.
The lab supports teaching, research and production in new media, networking, and media convergence. Designed to serve the needs of faculty as well as graduate and undergraduate students, the Walsh Lab is a Macintosh-based facility that includes a classroom for group instruction, a workroom for individualized projects and research, and a production room for high definition video, audio, and multimedia. High-definition cameras are also available to students working on projects that include digital video.
Look around the lab and meet the staff and the Director Hopeton Campbell, as they explain the facilities, equipment and possibilities for student productions and projects.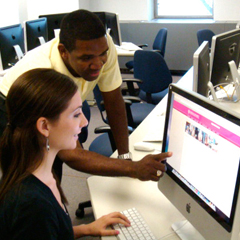 Walsh lab hours
Equipment checkout hours

M-Th: 9 am - 6 pm

Fri: 9 am - 5 pm

Sat: Closed

Sun: Closed

Mon - 12:00 pm - 3:00 pm

Tue - 2:30 pm - 4:00 pm

Wed 12:00 pm - 3:00 pm

Fri 10: 00 am - 1:00 pm
Personnel
Hopeton Campbell, Director, Walsh Digital Media Lab
Adjunct Instructor, Department of Communication and Media Studies