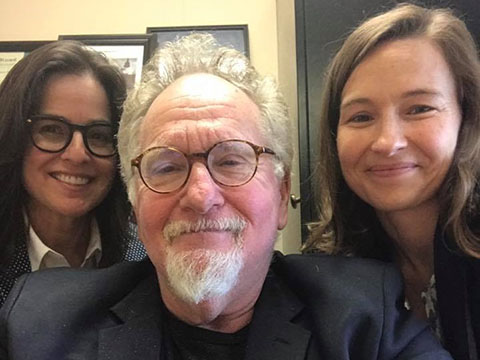 Kathleen LaPenta, Ph.D. (Modern Languages and Literatures, Fordham University), is Senior Lecturer in Italian at Fordham University and is the director and co-principal investigator of the Bronx Italian American History Initiative. Her research focuses on modern Italian culture, with specializations in transnational and comparative approaches to literature, cinema and oral histories. She has published in The Italianist, the Italian American Review and Moderna: Semestrale di teoria e critica della letteratura. She is currently at work on a book-length manuscript about intersectional Italian identities.
Jacqueline Reich, Ph.D. (Dean, School of Communication and the Arts, Marist College), pictured at left, is Dean of the School of Communication and the Arts at Marist College and is and co-principal investigator of the Bronx Italian American History Initiative. She is the author of The Maciste Films of Italian Silent Cinema (Indiana UP, 2015) and Beyond the Latin Lover: Marcello Mastroianni, Masculinity, and Italian Cinema (Bloomington: Indiana UP, 2004). She is also co-author, with Catherine O'Rawe, of Divi. La mascolinità nel cinema italiano (Donzelli, 2015) and co-editor with Piero Garofalo of Re-viewing Fascism: Italian Cinema, 1922-1943 (Bloomington: Indiana UP, 2002). She has written and published widely on Italian American cinema and culture.
Mark Naison, Ph.D. (History and African American Studies, Fordham University), pictured at center, is Professor at Fordham University and founder and director of the Bronx African American History Project. A recipient of a B.A., M.A. and Ph.D from Columbia University, he is the author of seven books and over 300 articles on African American politics, labor history, popular culture and education policy. His first book, Communists in Harlem in the Depression, published in 1983, is still in print, and is used in graduate courses around the nation. Dr. Naison is the founder of the Bronx African American History Project, one of the largest community based oral history projects in the nation and has brought his research into more than 30 Bronx schools, as well as Bronx based cultural organizations and NGO's. In recent years, the BAAHP's research has led to granting landmark status to several streets with historic significance, as well as the founding of a cultural center honoring the Bronx's musical heritage. A co-founder of the Bronx Berlin Youth exchange, Naison has published articles about Bronx music and Bronx culture in German, Spanish, Catalan, and Portuguese as well as English, and given talks about these subjects in Germany, Spain and Italy. He recently published a novel, Pure Bronx, co-written with his former student Melissa Castillo-Garsow, and a book of essays on educational policy and Bronx history, Badass Teachers Unite. His seventh book, published by Fordham University Press in September 2016, is Before the Fires, An Oral History of African American Life in the Bronx from the 1930's to the 1960's. This book was of the featured readings in a new course offered by Dr. Naison at Fordham in Fall 2016 entitled "The Bronx: Immigration, Race and Culture." He has also been featured on several news programs, the O'Reilly Factor, and the Chappelle Show, where his performance was satirized by Louis CK on Saturday Night Live.
Christopher Vicari is an Educational Technologist and Lecturer in the Department of Communication and Media Studies at Fordham University. His work specializes in implementing and evaluating technology in educational environments, while his teaching focuses on game development for social good, education, and mental health. He manages the department's media equipment, labs, and workshops focusing on digital media creation. He is also co-author of the article The Human Microbiome World: Using Minecraft to Enhance Microbiology Learning.