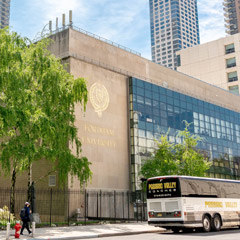 Fordham is a spectacular place to engage in research with impact, to teach business, and to develop career-transforming relationships. Faculty members have access to a suite of advantages that is not replicated in quite the same way at any other U.S. university. These include:
Ability to collaborate with outstanding colleagues at Fordham and at top New York City institutions
Ability to teach at both undergraduate and graduate levels
Proximity to the world commercial center of New York City
Strong support for faculty research
Mentorship roles for original student research
Jesuit tradition focused on collaboration and inquiry
Research and teaching are balanced priorities at Fordham. Reduced teaching loads, summer support and pre-tenure sabbaticals are offered to ensure that tenure-track professors have adequate time for research. Faculty are actively encouraged to participate in academic conferences, practitioner conferences, workshops and further coursework that will enhance their skills in the classroom.
Fordham business faculty members enjoy a healthy amount of self-government. Each discipline-specific area sets its own standards for what defines research with impact, what constitutes excellence in classroom instruction, and how professors should meet Fordham's expectation for service: to students, to colleagues and to the broader academic community.
Business instructors who are interested in learning more about joining the Fordham business faculty are encouraged to read the faculty values statement and to reach out to Dean Aksoy or the appropriate area chair using the contact details below. We always are seeking to meet talented, driven individuals who can make valuable contributions to our academic community.
Lerzan Aksoy, Ph.D., Dean, Gabelli School of Business — [email protected]
Area chairs:
We value excellence in teaching and in scholarship in business education.
We guarantee the freedom of inquiry required by rigorous thinking and the pursuit of the truth.
We value in ourselves and in our students the cultivation of lifelong habits of careful observation, critical thinking, creativity, articulate written and oral expression and moral reflection.
We affirm the practical, intellectual and moral value of understanding cultures and ways of life other than our own.
We see moral development as an inseparable component of professional and intellectual development.
We provide a venue in which different religious traditions may interact with each other and with contemporary business cultures. In this, we value the perspectives and involvement in the college and school of people of all religious traditions or of no religious tradition.
Following from the earliest traditions of Ignatian education, we prepare our students for leadership in commerce and professional service. However, we deny that our purpose in doing so is to advance their individual well-being alone. Instead, we affirm the primary importance of business education in helping to build a just society, a world which serves all peoples while excluding none.
We affirm the importance of professional training which will enhance global development to address poverty, protect human rights, and understand our individual and collective responsibilities as stewards of a natural environment which is now at risk.
We see education as student centered, not limited to professional training but attentive to the development of the whole person. As a result, we give particular priority to close collaboration among students, faculty and staff.
As a New York institution, we acknowledge a particular obligation to ongoing engagement with public and private organizations in our area.