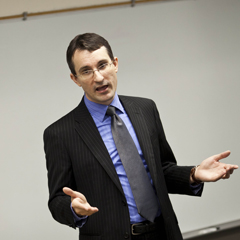 The Gabelli School of Business has 123 full-time faculty members who hold themselves to high standards of research, teaching, and service.
Because of the school's interdisciplinary approach, faculty develop close ties not only within their own academic areas, but also with colleagues in other business specialties and in Fordham's other divisions.
About 100 adjunct faculty, most of whom are working executives drawn from the New York City business community, support the Gabelli School's mission by bringing current industry expertise into the classroom.
Details on research projects and recent scholarship are available on our full-time faculty's profile pages and on the academic area pages