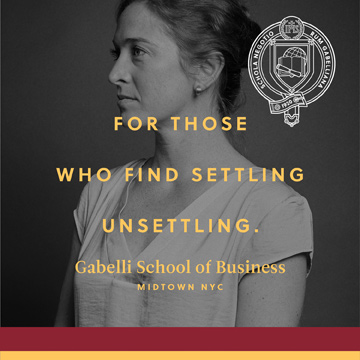 If you're considering graduate business school, you have a specific goal in mind: to advance your career.
Fordham offers M.B.A. programs and specialized Master of Science degrees designed to make this a reality.
The Gabelli School of Business will give you a command of your field that will move you not to the next rung, but several levels ahead.
We invite you to join an academic community where students find success in pursuits they had planned—and ones they never expected. Within the last year, our students have won the prestigious Association for Corporate Growth Cup, placed first in the University Trading Challenge, and placed in the national Top 100 of Institutional Investor's All-America Student Analyst Competition.
Success awaits you here, too.
Use the menu at left to discover how our challenging academics, New York City location, and strong alumni network will set you apart.
Also, discover all the student organizations and clubs you can join as a Gabelli School graduate student to help you build your network — and your résumé.