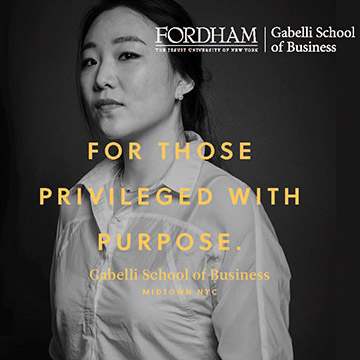 What Kind of Leader Do You Want to Be?
Want to switch careers into an industry you've long admired? Want to build skills to be able to advance your career in your present firm? Want to change the world with a new business idea?
Fordham can help you achieve those goals.
Which type of MBA is right for you? No matter your background, there's a Gabelli MBA program for you. You'll join a tight-knit community that prepares you to take the next step—at your current company, in a new city, or across the globe.
The Gabelli School of Business is proud to offer three STEM concentrations for both full-time and part-time MBA programs.
To support this investment in your future, the Gabelli School has established MBA scholarships that are available to exceptional applicants.
Explore the programs in more depth and find out what a Fordham MBA means for you.
Which Gabelli MBA is right for you?
Program Structure
Typical Work Experience
Average Age
Average Cohort Size
Tuition
Full-Time MBA
2 years
Full-time Daytime classes
3 - 5 years
26 - 28
50 - 60
$107,923
(Plus $7,000 Program Enrichment Fee)
Program Best Suited for: Young professionals looking to change their job function or enter a new industry
Professional MBA
2.5 - 3 years
Part-time Evening classes
4 - 7+ years
28 - 30
60 - 80
$1,732/credit (Plus $3,750 Program Enrichment Fee)
Program Best Suited for: Working professionals seeking to enhance their network and skills to move up in the business world
Executive MBA
22 months
One three-day weekend per month
8+ years
30 - 35
20 - 30
$113,445
Program Best Suited for: Senior professionals who want to sharpen their leadership approach and command of management and strategy