New York City Summer Internship Program
May 28 - August 6, 2024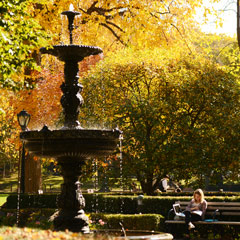 Employers want to hire people with experience. This summer, jumpstart your career with an 8-10-week internship in business, finance, marketing, media, advertising, public relations, art, theater, government, non-profits, human resources, and more.
Interning in NYC will allow you to ...
Jump-start your career. Because New York is a major center of international business and culture, you will gain an edge in competing for jobs in today's ever-changing global economy. Fordham's loyal network of New York City professionals gives you a wealth of impressive options to enhance your skills and give you relevant experience before you graduate.
Add impact and authority to your résumé. Make valuable connections during your internship, and show future employers that you have experience working in one of the world's strongest cities.
Prepare for leadership. Working with business, media, and cultural achievers in New York will give you the skills that put you on a career track toward becoming a leader yourself. Apply your knowledge.
Explore New York City's rich cultural offerings. New York's arts and cultural treasures are as diverse as they are famous. The Metropolitan Museum of Art, the Guggenheim Museum, the Broadway theatre district, and the American Museum of Natural History are among the many institutions near Fordham's campus at Lincoln Center. A short subway ride takes you to cutting-edge art galleries in Chelsea and Soho, and ball games at Yankee and Shea stadiums.
This directed summer program offers...
World-class contacts. Students are given access to our database of possible internship sites in business, finance, marketing, media, advertising, public relations, art, theater, government, non-profit, human resources, and more.
Career guidance. Students who register and make a deposit by February 15 will be assisted in the process of applying for and securing an internship placement.
Affordable living space. Participants who live outside the New York City area can stay in McMahon Hall on our Lincoln Center campus (in mid-Manhattan) for less than $35 a night.
College credit. A vital part of the internship program is the required four-credit Internship Seminar (SOCI 4900), which allows students to share and compare their experiences as interns and assess their own career goals. The course introduces students to the world of work with an emphasis on leadership development and management skills. The class credits are transferable pending your university's approval.
I am grateful for the education that has been provided to me by both Freedom from Fear and Fordham University. I refer to this summer as a successful synergy because this describes how both institutions provided me with a union of both practical application and philosophical value.

Cassandra, Providence College. Internship: Freedom from Fear
Past internship sites have included nationally and globally recognized companies:
A.G. Edwards
United Nations Development Programme
The Cinema Guild
Fitness Magazine
The Bank of New York
Fox News
The Support Center for Non-Profit Management
The Donna Karan Company
Slam Magazine
Columbia Records
Who is eligible for the Summer in the City Program?
This program is designed for undergraduates at Fordham and other universities. All registrants must have completed at least their first year of college, and they must be eligible to work in the United States. There is a suggested grade point average of 3.0.
Ready to brighten your future?
Choose one of the pathways below. You'll be asked to submit a cover letter and resume, but don't worry if they're not perfect -- part of the program involves working with Fordham's Career Services to tighten up your CV, interview skills, and cover letter so you'll know how to put your best foot forward and apply for a job in the real world.