Summer Session UCSC Program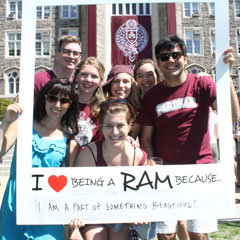 Fordham is eager to welcome students from the Università Cattolica del Sacro Cuore.
Session II: July 5-August 7, 2023
Students from UCSC are invited to participate in Session II classes at Fordham's two beautiful New York City campuses, Lincoln Center in Manhattan and Rose Hill in the Bronx or online.
Students live on campus for five weeks and participate in two courses. Please refer to the program description on your university website and feel free to contact your international office at info.outbound@unicatt.it with questions.
Program Benefits
As a Fordham student for the summer, you will have access to all Fordham University facilities (cafeterias, fitness centers, libraries, computing labs) and you will have the benefit of being steps away from everything NYC has to offer.
Make up for lost time by living and learning in the most exciting city in the U.S.
Instructions
You will need to select two courses (at times that do not conflict) to be eligible for the visiting student visa. Please note that the Rose Hill and Lincoln Center campuses are about 30 minutes apart without traffic, so it will not be easy to change campuses between the morning and afternoon classes. Morning and evening or afternoon and evening will be fine! There is a free shuttle to take you between campuses. If you wish to find online options, you can visit the department pages here and look for classes listed as Online in Session 2.
Please note that to receive credit at UCSC, you will need to receive approval from the appropriate faculty at your school.
To apply please follow the instructions on your university website. When you are ready, please begin by completing the form here. We hope to welcome you to Fordham this summer!
ACBU 2223 R21 - Principles of Managerial Accounting
Summer Session II, July 5 – August 7, 2023
Rose Hill: TWTh, 06:00PM - 09:00PM

This course covers how to measure and use cost data for internal decision making under uncertainty. Among the topics covered are job costing, process costing, standard costing, activity-based costing, budgeting, balanced scorecard, direct versus indirect cost measures, cost volume profit analysis, and management control systems.

Instructor: TBA
3 credits

Prerequisites: ACBU 2222

ARHI 1100 L21 - Art History Introduction: World Art
Summer Session II, July 5 – August 7, 2023
Lincoln Center, Hybrid: TWTh, 09:00AM - 12:00PM

This course is an introduction to the study of art history, approached from a global perspective. It reaches back to Cycladic art (c. 3300 to 1100 BCE) and ends with the present. Because most human societies have created art, this course looks at works created in Europe, the Americas, Asia, and Africa. And since art objects can and do move across cultural boundaries, it also looks at the cross-cultural transmission of artworks. Students will learn about how peoples across space and time created works of art and architecture in response to social crisis, as an aid to or container of ritual, and to express norms and ideals of gender. Students will come to understand how and why abstraction and naturalism emerged at different times and places. The course is a collaborative endeavor, co-designed by faculty members in Fordham's program in art history (Professors Beach, Ikeda, Isaak, Mundy, Rowe, Ruvoldt, and Teverson), and facilitated by our curator for visual resources (Katherina Fostano) and a team of teaching assistants. Through this course, therefore, as you gain a broad and deep understanding of art history, you will also get to know leading scholars in the field and peers who are enthusiastic about the study of art and will help you see how it intersects with the interests and concerns of the current moment. Portions of the class will take place online while live sessions will focus on museum visits.

Instructor: Fostano, Katherina
3 credits

COMC 4380 L21 - Media and Moral Philosophy
Summer Session II, July 5 – August 7, 2023
Lincoln Center: TTh, 09:00AM - 12:00PM

This seminar examines public discourse through the lens of moral philosophy. Debate in the public sphere often uses moral narratives to make sense of difficult issues or events. When something grips the national attention—such as a school shooting, a hotly contested election, or an environmental disaster—we don't just need to know what happened, we also need to grapple with why. We want to understand whether and how this changes who we are as a society and our place in history. To this end, news and social media create diverse and often contradictory narratives about who is blameworthy and who is a victim, about what moral goods are at stake and the best way to protect and promote them. Understanding these narratives in moral terms is crucial to becoming an ethically informed public citizen, because it helps us grasp the deeply human stakes underlying what may often seem like endless newsfeed chatter. Each iteration of the course focuses on a different issue. In this version of the course, we will be looking at the moral narratives around gender.

Instructor: Schwartz, Margaret
4 credits

---

DTEM 4480 L21 - Digital Media & Public Responsibility
Summer Session II, July 5 – August 7, 2023
Lincoln Center: TTh, 01:00PM - 04:00PM

An examination of the public cultures, goods, and problems that emerge from the ongoing integration of digital media into everyday life. This course goes beyond a traditional focus on personal problems and responsibilities to explore how publics have and can take collective responsibility to address structural inequities in a digital society.

Instructor: Donovan, Gregory
4 credits

---

FITV 4570 L21 - Films of Moral Struggle
Summer Session II, July 5 – August 7, 2023
Lincoln Center: MTWTh, 01:00PM - 04:00PM

The course studies the portrayal of human values and moral choices both in the narrative content and the cinematic technique of outstanding films. Class discussion tends to explore ethical aspects of each film's issues, while numerous critical analyses of the films are offered to develop the student's appreciation of the film's artistic achievements. Lab fee.

Instructor: Foley, Ashar
4 credits

ECON 1100 L21 - Basic Macroeconomics
Summer Session II, July 5 – August 7, 2023
Lincoln Center: TWTh, 09:00AM - 12:00PM

Investment, GDP, interest rates, the budget deficit, inflation, unemployment, banking, monetary and fiscal policies, and exchange rates appear frequently in the media, but are often little understood. Macroeconomics studies these aggregates and their interconnections, and looks as well at the influence of the Federal Reserve and the federal government.

Instructor: Gomez Gonzalez, Patricia
3 credits

---

ECON 2142 R21 - Statistical Decision Making
Summer Session II, July 5 - August 7, 2023
Rose Hill: MTWTh, 09:00AM - 12:00PM

This computer-assisted course develops the student's ability to collect data, postulate a hypothesis or a model, select the appropriate statistical technique, analyze the data using statistical software, draw correct statistical inference and clearly summarize the findings. Specific topics include chi-square tests, analysis of variance, simple and multiple regression and correlation models, time series analysis, and quality control.

Instructor: TBA
4 credits

Prerequisites: ECON 2140

---

ECON 3453 R21 - Law and Economics
Summer Session II, July 5 – August 7, 2023
Rose Hill: MTWTh, 01:00PM - 04:00PM

This course applies microeconomic analysis to traditional areas of legal study, such as contract, property, tort and criminal law. The approach applies the 'rational choice' framework used in economics to analyze the purpose, effect and genesis of laws. Attention is paid to the effect of legal structures on economic efficiency. Economic analysis of law is one of the fastest growing and most influential areas of both economic and legal scholarship. This course is of value to both the general economist and students planning to attend law school.

Instructor: Themeli, Booi
4 credits

FNBU 3221 L21 - Financial Management
Summer Session II, July 5 – August 7, 2023
Lincoln Center: TWTh, 06:00PM - 09:00PM

Financial analysis, planning and control in the business firm. Optimum capital structure and leverage. Working capital management and sources of suitable short-term funds. Long-term investment decisions and capital budgeting. Valuation problems in financing and acquisitions.

Instructor: Gu, Christopher
3 credits

Prerequisites: ACBU 2222

---

FNBU 3440 L21 - Corporate Financial Policy
Summer Session II, July 5 – August 7, 2023
Lincoln Center: TWTh, 09:00AM - 12:00PM

From the standpoint of finance theory, the value created by a corporation depends on the profitability of investments and the mode of financing these investments. This course enables students to analyze and understand the interaction between the investment and financing decisions. Corporate finance topics such as capital budgeting, cost of capital, raising capital, dividend policy, hedging, mergers and acquisitions, and international corporate finance may be covered.

Instructor: Ergas, Jean
3 credits

Prerequisites: HPCB 3221 or FNBU 3221

MAND 1501 V21 - Intermediate Mandarin I
Summer Session II, July 5 – August 7, 2023
Virtual: TWTh, 09:00AM - 12:00PM

Intermediate Mandarin I will continue introducing students to the fundamentals of the Mandarin language, emphasizing the five main components of language acquisition (reading, writing, listening, speaking, and cultural competence) using a task- and content-based Mandarin learning program. Conducted in Mandarin.

Instructor: Lai, Tinny
3 credits

Prerequisites: MAND 1001 or MAND 1002

---

PHIL 4484 L21 - Freedom and Responsibility
Summer Session II, July 5 – August 7, 2023
Lincoln Center: MTWTh, 09:00AM - 12:00PM

The course will investigate several problems concerning freedom, responsibility and the morality of punishment. Is freedom possible in a world completely governed by physical laws? How can I be blamed (or praised) for my actions, given that upbringing, character, and environment are largely matters of luck? Is the practice of punishing criminals morally justifiable? How?

Instructor: Au Mullaney, Michael
4 credits

---

THEA 2015 L21 - Acting for Non-majors
Summer Session II, July 5 – August 7, 2023
Lincoln Center: MTWTh, 01:00PM - 04:00PM

Introductory acting technique for non-theatre performance majors. Emphasis on developing and freeing the voice, body, imagination, and emotions. Activities of the course include vocal and body warm-ups, theatre games and exercises, improvisation, and scene work.

Instructor: Kimmel, Michael
4 credits

---

THEA 3067 L21 - Solo Vocal Performance: So you Want to Sing Cabaret
Summer Session II, July 5 – August 7, 2023
Lincoln Center: MTTh, 01:00PM - 04:00PM

In this course, students will develop the unique skills for solo vocal performance, from identifying your authentic voice to honing your vocal technique to connecting with your audience and promoting yourself. Grounded in the history and business of cabaret, the course will give students a chance to work one-on-one with a master teacher in vocal technique and with an accompanist to craft their own multi-song performance.

Instructor: Sabella, David and Gaines, David
3 credits

---

THEO 3310 R21 - Early Christian Writings
Summer Session II, July 5 – August 7, 2023
Rose Hill: TWTh, 06:00PM - 09:00PM

A selective study of the writing of prominent Christian theologians from Justin Martyr to Augustine, concentrating on early beliefs concerning God, Christ, the Church and the sacraments.

Instructor: Reynoso, Natalie
3 credits

Prerequisites: THEO 1000 or THEO 1007 or HPRH 1001 or THEO 1008 or THEO 1009 or THEO 1006 or THEO 1010 or HPLC 1401

---

THEO 3610 L21 - Christ in World Cultures
Summer Session II, July 5 – August 7, 2023
Lincoln Center: TWTh, 06:00PM - 09:00PM

At the center of the Christian tradition stands the person of Jesus Christ. Yetfrom a global perspective, Christianity takes many forms in its many contexts. This course examines the ways in which the Christian faith interacts with diverse world cultures and asks the central question, how do cultural differences shape contemporary interpretations of Jesus as the Christ?.

Instructor: Sangsoko, Nindyo
3 credits

Prerequisites: THEO 1000 or THEO 1006 or THEO 1007 or THEO 1008 or THEO 1009 or THEO 1010 or HPRH 1001 or HPLC 1401

---

VART 1128 L21 - Digital Photography
Summer Session II, July 5 – August 7, 2023
Lincoln Center: MTWTh, 09:00AM - 12:00PM

This class is an introduction to the fundamentals of digital photography. The objectives are to understand camera usage, demonstrate control of image editing and printing, and develop a personal vision. Instruction methods will comprise technical demonstrations, lectures, critiques, screenings, and field trips.

Instructor: Apicella-Hitchcock, Stephan
4 credits

---

VART 1135 R21 - Visual Thinking
Summer Session II, July 5 – August 7, 2023
Rose Hill: TWTh, 06:00PM - 09:00PM

A foundation course in visual communication. The course will cover the following topics: visual perception, composition, light and color, drawing perspective, words and images, graphic design, and photography and photo montage.

Instructor: Stracquadanio, Vincent
3 credits

---

VART 1138 R21 - Watercolor Painting
Summer Session II, July 5 – August 7, 2023
Rose Hill: MTWTh, 01:00PM - 04:00PM

An introductory course in watercolor exploring the possibilities of the medium. Students will develop an understanding of value, color and composition while using techniques such as wet into wet, dry brush, washes and layering.

Instructor: Grimm, Rachael
4 credits

---

VART 2003 L21 - Graphic Design and Digital Tools
Summer Session II, July 5 – August 7, 2023
Lincoln Center: TWTh, 01:00PM - 05:00PM

In this course the student will learn the basic tools and operations of several different graphics programs. Photoshop, Illustrator, and QuarkXpress will be explained through demonstrations, tutorials, and weekly assignments. The focus will be on a conceptual and analytical approach to design vocabulary and problem solving.

Instructor: Rhinehardt, Kimberly
4 credits

---

VART 2080 L21 - Interior Design
Summer Session II, July 5 – August 7, 2023
Lincoln Center: TWTh, 01:00PM - 05:00PM

Introduction to Interior Design will explore how form, function, and light are integral to the design process when creating a welcoming and dynamic space. We will design our own interiors from personal domestic spaces to large scale public spaces. We will work on renovation projects as well as new construction. We will explore basic design principles and learn how to apply design elements that support your style choices and help you communicate your ideas. Note:

Instructor: McArver, William Chad
4 credits

---

WGSS 3001 L21 - Queer Theories
Summer Session II, July 5 – August 7, 2023
Lincoln Center, Hybrid: TTh, 06:00PM - 09:00PM

An introduction to the academic discipline of queer theory, focusing on foundational thinkers (e.g., Butler, Foucault, Sedgwick, and others as well as their philosophical and psychoanalytic precursors and interlocutors. The course will also address selected issues currently under discussion in the discipline. These may include the role of activism, the relationship between queer theory and feminism theory, attention to race, and intersections with postcolonial theory.

Instructor: Mowlabocus, Sharif
4 credits

MKBU 3435 R21 - Consumer Behavior
Summer Session II, July 5 – August 7, 2023
Rose Hill: TWTh, 01:00PM - 04:00PM

An interdisciplinary approach to the study of consumer behavior and motivation. Topics include behavioral science findings and their implications in the marketing mix; socioeconomics, demographic and cultural influences; theories of promotion and communication; consumer behavior models; attitude measurement; perception and consumerism.

Instructor: TBA
3 credits

Prerequisites: MKBU 3225

---

MKBU 3440 R21 - Global Marketing (3 Week Intensive 7/10-28)
Summer Session II, July 5 – August 7, 2023
Rose Hill: MTWTh, 09:00AM - 12:30PM

The entertainment sector is a major industry. Within that sector, sports activities are targeting a number of demographic and other segments of the population. While some sports (collegiate and professional) are quite successful in their marketing strategies, others struggle to gain or to hold their audience within a competitive market place. This course evaluates the marketing mix of those sports teams and institutions that are successful and assesses the marketing ingredients of those sports activities that are struggling to gain a larger or profitable share of the audience.

Instructor: TBA
3 credits

Prerequisites: MKBU 3225

---

MKBU 4454 R21 - Sports Marketing
Summer Session II, July 5 – August 7, 2023
Rose Hill: TWTh, 06:00PM - 09:00PM

The operations function within an organization is responsible for managing the process flow that an organization has to use to produce a product, deliver a service, or both. Operations managers are responsible for the design, the daily operation, and the improvement of these processes. This course provides an introduction to the field of operations management: to understand the key decisions and to see how these decisions directly impact an organization's competitiveness and market performance.

Instructor: TBA
3 credits

Prerequisites: MKBU 3225

BISC 3221 R21 - Human Anatomy
Summer Session II, July 5 – August 7, 2023
Rose Hill: TWTh, 01:00PM - 04:00PM

A lecture course which examines cell, tissue, and gross anatomy of the major organ systems of the human body as they relate to life processes in health and disease.

Instructor: Frank, Craig
3 credits

Prerequisites: BISC 3132 and BISC 3142 and CHEM 1322 and CHEM 1332

---

BISC 3231 R21 - Human Anatomy Lab
Summer Session II, July 5 – August 7, 2023
Rose Hill: TWTh, 09:00AM - 12:00PM

A laboratory course employing slides, models and gross dissection to study the structure of the major organ systems of the human body.

Instructor: Frank, Craig
2 credits

Prerequisites: BISC 3132 and BISC 3142 and CHEM 1322 and CHEM 1332

---

BISC 3643 R21 - Microbiology
Summer Session II, July 5 – August 7, 2023
Rose Hill: TWTh, 09:00AM - 12:00PM

Detailed study of microbial metabolism and physiology; microbial roles in maintaining earth's ecosystems and human health; global environmental change and effects on emerging infectious diseases, epidemiology, and public health.

Instructor: Santos, Victor
3 credits

Prerequisites: BISC 2539 and BISC 2549 and CHEM 1322 and CHEM 1332

---

BISC 3653 R21 - Microbiology Lab
Summer Session II, July 5 – August 7, 2023
Rose Hill: TWTh, 01:00PM - 04:00PM

Laboratory exercises are designed to develop skills in: sterile culture techniques for isolating bacteria and fungi from natural substrates; microscopy and staining techniques for visualization, identification and quantification of microbes.

Instructor: Santos, Victor
2 credits

Prerequisites: BISC 2539 and BISC 2549 and CHEM 1322 and CHEM 1332

ANTH 1100 L21 - Introduction to Cultural Anthropology
Summer Session II, July 5 – August 7, 2023
Lincoln Center: TWTh, 09:00AM - 12:00PM

We live in a shrinking international arena that demands greater sensitivity to the diversity of cultural patterns surrounding us. In this course, students investigate human beliefs and behavior, particularly in regard to forms of communication, marriage and the family, adaptions to the environment and to political, economic and religious institutions in a variety of past and present cultures.

Instructor: George, Diane
3 credits

---

ANTH 3351 L21 - Comparative Cultures
Summer Session II, July 5 – August 7, 2023
Lincoln Center: MTWTh, 01:00PM - 04:00PM

This course will survey the diversity of cultures in the world and the processes that have produced similarities and differences among and within various geographic areas. Some of the central topics of discussion include human adaptation and adaptability, social change, modernization and ideas of development in small scale as well as in complex societies today.

Instructor: Gautman, Gajula
4 credits

---

SOCI 1100 R21 - Introduction to Sociology
Summer Session II, July 5 – August 7, 2023
Rose Hill: TWTh, 09:00AM - 12:00PM

An introduction to sociology with a focus on its nature as a scientific discipline. The analysis of society through the use of sociological theories, concepts, and methods. This course is required prior to all other sociology courses and seeks to stimulate students to continue to deepen their understanding of societies.

Instructor: Bougdaeva, Saglar
3 credits

---

SOCI 3114 R21 - Sociology of Health and Illness
Summer Session II, July 5 – August 7, 2023
Rose Hill: MTWTh, 06:00PM - 09:00PM

This course will focus on health, illness, and medicine from a sociological perspective. It will provide students with an overview of the development of medicine as in institution, the impact of medicine on society, the socialization of health care practitioners, the social determinants of health and illness, healthcare policies in the U.S. and around the world, and patients' experiences with illness. By the end of this course, students will be able to: (1) develop an understanding of the ways in which society and medicine influence each other, (2) connect multiple social factors with people's health; and (3) grasp the construction of diverse illness identities in patients with chronic diseases.

Instructor: Bougdaeva, Saglar
4 credits

---

SOCI 3713 R21 - Criminology
Summer Session II, July 5 – August 7, 2023
Rose Hill: TWTh, 12:30PM - 04:30PM

This course surveys the state of knowledge and theories explaining criminal behavior and attempts to control it by society. Although the sociological perspective on crime is emphasized, class discussion and the text attempt to examine the subject from a multidisciplinary point of view, especially with respect to legal, biological, and psychological views of crime.

Instructor: Adam, Benjamin
4 credits

PSYC 1200 R21 - Foundations of Psychology with Lab
Summer Session II, July 5 – August 7, 2023
Rose Hill: MTWTh, 09:00AM - 12:00PM

A systematic examination of the methods and content of psychology as a life science. A survey of history and development, principles, and theories of psychology related to sensation and perception, learning, cognition, motivation, developmental, personality, abnormal, and social psychology.

Instructor: TBA
4 credits

---

PSYC 3100 R21 - Health Psychology
Summer Session II, July 5 – August 7, 2023
Rose Hill: MTWTh, 01:00PM - 04:00PM

An introduction to the study of psychological factors in health and illness. The major models, research methods, interventions, and issues in health psychology and behavioral medicine will be examined. Topics include stress-illness, compliance, social support and coping, as well as prevention and health education.

Instructor: TBA
4 credits

Prerequisites: PSYC 1200

---

PSYC 4920 L21 - Youth, Values and Society
Summer Session II, July 5 – August 7, 2023
Lincoln Center: MTWTh, 09:00AM - 12:00PM

This course explores the history and current place of youth in society from a multidisciplinary perspective and consider how this social construction of youth influences their development of values. It explores the history of social constructions of adolescence and youth and the current place of youth in our society.

Instructor: TBA
4 credits