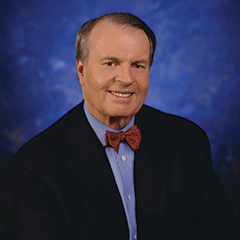 Charles Osgood
Fordham College at Rose Hill, Class of 1954
Award-Winning Journalist
(Inducted in 2010)
Charles Osgood is the voice of Sunday mornings, as constant and full of promise as a benediction. Anchor of CBS News' Sunday Morning on television and The Osgood File on the CBS Radio Network, he is one of the country's most recognized and beloved broadcasters. His graceful, witty reports, occasionally told in verse—and often delivered in his trademark bow tie—illuminate the world's most interesting stories and, in the process, reveal to his devoted viewers and listeners something previously unknown, even sometimes about themselves.
Born in the Bronx, Osgood attended St. Cecelia High School in Englewood, New Jersey, before earning his bachelor's degree in economics at Fordham College at Rose Hill in 1954. At Fordham, he quickly found his niche at WFUV (90.7 FM), Fordham's noncommercial radio station, which served as much as a classroom for him as any other place on campus.
After graduating from Fordham, he served in the U.S. Army from 1955 to 1959. He also embarked on a career in broadcasting, including stints as general manager of WHCT-TV in Hartford, Connecticut, and program director and manager of WGMS Radio in Washington, D.C. He worked as a general assignment reporter for ABC News from 1963 to 1967, when he was named morning anchor and reporter for WCBS News Radio in New York. He joined CBS News in 1971. In addition to his Sunday Morning duties, which he assumed in 1994, he writes and delivers The Osgood File, his daily news commentary, four times each weekday on the CBS Radio Network.
Throughout his career, Osgood has received some of the highest accolades in broadcast journalism. A four-time Emmy Award winner and a three-time recipient of the George Foster Peabody Award, he was inducted into the National Association of Broadcasters Hall of Fame in 1990. He is also a bestselling author whose books include See You on the Radio (the line with which he closes his Sunday Morning broadcasts).
Osgood has also been one of Fordham University's most prominent ambassadors—a valued trustee and a warm and sparkling emcee for numerous Fordham events. He delivered the commencement address to the Class of 1988, after receiving an honorary degree from the University, and in 2005, Fordham honored him with its Founder's Award. Three years later, WFUV presented him with a lifetime achievement award. Today, the award is known as the Charles Osgood Lifetime Achievement Award in Broadcast Journalism, presented annually to a broadcast journalist who reflects Osgood's standards of excellence.