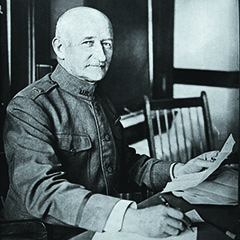 Clarence R. Edwards
Professor of Military Science and Tactics, St. John's College
Brigadier General, U.S. Army
(Inducted in 2008)
Major General Clarence R. Edwards began his illustrious military career instructing students in military science and tactics at Fordham, then known as St. John's College, in 1890. His work with the student cadets paved the way for the establishment of the Reserve Officers' Training Corps at the University in 1926.
Upon arriving at Rose Hill, Edwards took command of a battalion of 200 men, some of whom were only a few years younger than the fresh-faced West Point graduate charged with their keep. Edwards' youthful appearance, however, belied his authoritative presence: tall, lean, and straight as the sharp crease in his uniform, he proudly marched where others simply walked.
Under his command, the University's cadet battalion grew in numbers and in reputation, rivaling West Point in national prestige by the end of the decade. Edwards' cadets provided honor guards at college and public ceremonies and conducted tactical training on campus and in neighboring Bronx Park. His men also afforded Jesuits and faculty members the respect normally reserved for ranking officers; when they passed, the cadets stood at attention and saluted their teachers. Edwards later commanded the famous 26th "Yankee" Division, one of the most heavily decorated divisions of World War I. He was awarded the Distinguished Service Medal and is buried in Arlington National Cemetery. Today, his memory endures at Fordham in the beauty of Edwards Parade, the center of the Rose Hill campus and the site of the University's commencement ceremony each spring.