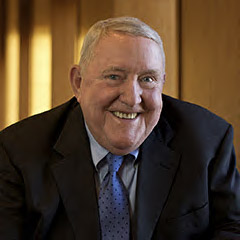 E. Gerald Corrigan
Graduate School of Arts and Sciences, Classes of 1965 and 1971
President, Federal Reserve Bank of New York
(Inducted in 2012)
Known for his legendary work ethic, E. Gerald Corrigan, Ph.D., has built a career in finance that spans the public and private sectors, where he is equally respected for his deep knowledge and skill in assessing risk and establishing stability. As president of the Federal Reserve Bank of New York from 1985 to 1993, the economist's swift action following the 1987 Black Monday stock market collapse is widely credited with preventing further catastrophe.
Corrigan joined Goldman Sachs in 1994, where he serves as a partner and managing director. He is the co-chair of the Firmwide Risk Management Committee and chairman of Goldman Sachs Bank USA, and has brought his unparalleled experience to numerous firm-wide and industry-wide committees that study financial market efficiency and stability.
Born in Waterbury, Connecticut, Corrigan earned his master's and doctoral degrees in economics from Fordham in 1965 and 1971, respectively. As a graduate student, he worked closely with his Fordham mentor, Joseph Cammarosano, Ph.D., to lead 50 students in an economic development study of the Bronx. "He was a pied piper," said Cammarosano, an economics professor who went on to become executive vice president of the University in 1969.
Corrigan taught for a semester at Fordham and always imagined himself as a professor, even after joining the Federal Reserve Bank of New York as an economist in 1968. But the finance world had other plans for him. In his 25-year career in the Federal Reserve System, he served in a variety of positions, including special assistant to Federal Reserve Board Chairman Paul Volcker in Washington, D.C., before retiring as president and chief executive officer of the New York Fed in 1993. President Bill Clinton promptly appointed him to head the Russian-American Enterprise Fund, and from 1993 to 1995, he was director of the Council on Foreign Relations.
Corrigan's support for Fordham has been magnanimous. In 1999, he established the E. Gerald Corrigan, Ph.D., Endowed Scholarship Fund, which supports talented undergraduate students at Fordham. In 2007, he made a $5 million gift to the University to further sustain that fund and to create the Corrigan Chair in International Business and Finance, an endowed professorship at Fordham's Gabelli School of Business. He made another significant investment in 2012 to provide additional support for both the chair and the scholarship fund. Fordham later dedicated the E. Gerald Corrigan Conference Center at the Lincoln Center campus in his name. Corrigan served on the University's Board of Trustees from 1987 to 1989, and delivered the spring 2006 Gannon Lecture on the power of clear thinking. "The jewel in the crown of Jesuit education," he told the audience, "is that it teaches students how to think, and how to think clearly."