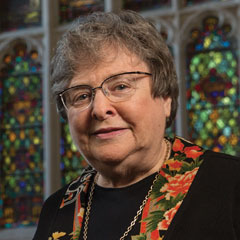 Elizabeth A. Johnson, C.S.J.
Distinguished Professor of Theology
President, Catholic Theological Society of America
(Inducted in 2022)

A beloved teacher and influential mentor, Elizabeth A. Johnson, C.S.J., has been hailed by The National Catholic Reporter as "one of the country's most prominent and respected theologians." She is internationally known for her work in systemic, feminist, and ecological theology. In her 11 books and numerous articles, she has offered groundbreaking perspectives on traditional Catholic thought. As a scholar and educator, she has worked tirelessly to bring about a world more in accord with Jesus' vision of the reign of God.
Born in Brooklyn, New York, the oldest of seven children, she joined the Sisters of Saint Joseph in the early 1960s. After earning a bachelor's degree at Brentwood College and a master's degree at Manhattan College in 1964, she taught science and religion to elementary and high school students. Empowered by the Second Vatican Council, over the next two decades, she helped usher in a broader range of possibilities for Catholic religious and lay women. In 1981, she became the first woman to earn a doctorate in theology at the Catholic University of America, where she taught for a decade before joining the Fordham faculty.
At Fordham, she helped build the University's theology department into one of the best in the country. She first came to wide attention with the publication of She Who Is: The Mystery of God in Feminist Theological Discourse. That 1992 book, which laid the intellectual foundation for feminist theology, examined how to rediscover the feminine God within the Christian tradition, offering at once a radical new vision of Christian theology and a long-overdue appreciation of women's experiences with the Christian faith. In 1995, she was elected president of the Catholic Theological Society of America. She earned the University's Teaching Award in 1998 and its Professor of the Year Award in 2011.
A distinguished professor emerita at Fordham, where she taught for 27 years, from 1991 to 2018, she has received 15 honorary doctorates, many book prizes, the John Courtney Murray Award for distinguished achievement in theology, and countless messages of thanks from believers inspired and heartened by her work. Her books have been translated into more than a dozen languages.
At Fordham, the spirit of her work is carried on through the Elizabeth A. Johnson Endowed Scholarship Fund. Established with a generous gift from Valerie Vincent, a 1999 Fordham graduate whom Sister Johnson had mentored, the fund helps to bring more women's voices and experiences into theological teaching and scholarship. Her legacy is also felt throughout the University, particularly in the theology department, which promotes the informed exploration of faith and justice, fostering dialogue for scholars, ecclesiastical leaders, and the public alike.