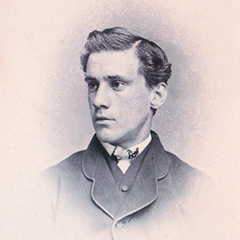 Esteban Bellán
St. John's College, Class of 1868
First Caribbean Major League Baseball Player
(Inducted in 2008)
Years before Jackie Robinson broke Major League Baseball's color barrier, Esteban Bellán became the first Caribbean and first Latin American to play professional baseball in the United States.
Born in 1850 in Havana, Cuba, Bellán was sent by his family to the United States to reap the benefits of a Jesuit education. He enrolled at Fordham University, then known as St. John's College, which had a significant Latin American and Caribbean student population during the mid-19th century. In addition to learning the complementary roles of faith and reason in the pursuit of wisdom, Bellán also learned the game of baseball as a member of the newly created Rose Hills Baseball Club.
After graduating, Bellán joined the Troy Haymakers in 1869 and quickly earned the nickname the Cuban Sylph for his graceful play at third base. Two years later, he and his teammates joined baseball's National Association, a precursor of the National League and the first professional baseball league in the United States. Later, the Haymakers became the New York Giants, now the San Francisco Giants.
In 1873, Bellán returned to his native Cuba to help professionalize the game he fell in love with while at Rose Hill. On December 27, 1874, he played in the first organized baseball game in Cuba, hitting three home runs and scoring seven runs in his team's impressive 51–9 victory. From 1878 to 1886, he served as player-manager for the recently founded Habana baseball team, which he led to three national championships.
Bellán is celebrated throughout Cuba as one of the country's first great players and managers, while Fordham honors and remembers him as its first professional baseball player and an enduring symbol of the University's historic connections to Latin America and the Caribbean.