Francis Cardinal Spellman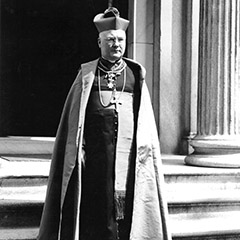 Francis Cardinal Spellman
Fordham College, Class of 1911
Archbishop of New York
(Inducted in 2008)
A steadfast social, political, and theological conservative, Francis Cardinal Spellman was a stalwart defender of the Catholic faith and, as archbishop of New York, both the face and voice of the Catholic Church in America for much of the mid-20th century.
Spellman graduated from Fordham in 1911, where he played baseball and, appropriately, demonstrated an affinity for dramatics and oratory. After graduating, he joined the diocesan seminary and began his studies in preparation for the priesthood at the North American College at Rome. Ordained in 1916, he was named archivist of the Archdiocese of Boston eight years later, in 1924. The following year, he was appointed the first American assistant to the papal secretariat of state.
In 1932, he returned to the United States and was named auxiliary bishop of Boston, a position he held for the next seven years until Pope Pius XII made him archbishop of New York and vicar of the United States Armed Forces, in which capacity he helped mobilize American Catholics in support of the war efforts. He was elevated to the College of Cardinals in 1946. From then until his death in 1967, he put up an impressive mass of ecclesiastical buildings—raising more than $500 million for the construction of schools, churches, and other institutions—earning for himself an unquestioned reputation as the church's master builder.
In 1941, when he renovated St. Patrick's Cathedral, Spellman donated the cathedral's high altar and tabernacle to the University Church. Spellman's legacy at Fordham also lives on in Spellman Hall, Rose Hill's residence for non-retired Jesuits.