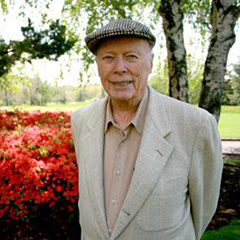 George E. Doty
Fordham College, Class of 1938
Chief Executive Officer, Goldman Sachs
(Inducted in 2008)
In a proud tradition dating back to the Renaissance, George E. Doty, former Wall Street financier and chief executive officer of Goldman Sachs, helped to usher in an unprecedented period of patronage and philanthropy for Fordham University.
With Fordham still wrestling through a difficult period of financial uncertainty in the early 1970s, Doty, as part of a cadre of successful alumni, helped put the University on more secure financial footing. As one of the first lay members of the University's financial board and, later, as chairman of the Board of Trustees, Doty advised the administration on fundraising and set the standard for giving by his own quiet, generous contributions.
Fittingly, his generosity—of his spirit, intellect, and personal wealth—paralleled that of his historic forebears: Doty's gifts to the University highlighted his love of high art and the Catholic Church. He donated 10 replica details of the Vatican's Raphael Stanze and several Benjamin West paintings, which augmented the William D. Walsh Family Library's impressive collection of drawings by John Trumbull, one of the founding fathers of American art. Doty and his wife, Marie Ward Doty, actively supported the most recent—and extensive—restoration of the University Church, which took place between 2003 and 2004, and re-established the New York City landmark as the center of the University's vibrant spiritual life. They also enriched the intellectual life of the University, creating the Marie Ward Doty Chair in the psychology department and the Dr. M. J. Werthman, GSAS '85, Memorial Endowed Scholarship Fund, which supports female graduate students of psychology who are engaged in the study and clinical treatment of mental illness.
Like a Medici of Manhattan and the Bronx, Doty, through his beneficence and constancy, has assisted in the development of the spiritual, artistic, and intellectual lives of generations of Fordham students.