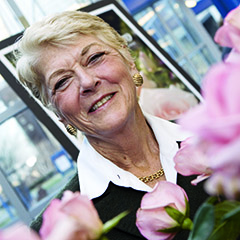 Geraldine Ferraro
Fordham School of Law, Class of 1960
U.S. Congresswoman
First Woman Nominated by a National Party for Vice President of the United States
(Inducted in 2011)
Geraldine Ferraro's surname is derived from the Italian word for iron. As the first woman nominated by a national party for vice president of the United States, Ferraro, through the graceful force of her will, helped place a new generation of women on equal—and more secure—footing with their male counterparts, not only in politics but in every arena of American life.
Ferraro was born in 1935, in Newburgh, New York, the daughter of a first-generation Italian-American mother and an Italian immigrant father. After her father, a restaurateur, passed away when she was eight, Ferraro's mother worked as a seamstress to support the family. Ferraro earned her bachelor's degree at Marymount Manhattan College in 1956. Later, while working as a public school teacher, Ferraro attended Fordham Law School in the evenings, as one of only two women in her class. She earned her juris doctor degree in 1960.
That same year, she married John Zaccaro, her college boyfriend, but kept her maiden name as a testament to her mother's hard work and sacrifice. While raising a family of her own, Ferraro worked part time as a civil attorney. She was elected president of the Queens County Women's Bar Association in 1970 and was appointed assistant district attorney four years later. Determined to make a more permanent difference in her community, she ran for Congress, winning a seat in the U.S. House of Representatives from New York City's 9th District in 1978. Once in Washington, Ferraro proved that she was, to paraphrase Shakespeare, a gentlewoman of brave mettle.
In 1984, Walter Mondale, the Democratic nominee for president, selected Ferraro as his running mate. "There are no doors we cannot unlock," she said during her historic acceptance speech at the Democratic National Convention in San Diego. "We will place no limits on achievement." The ticket lost, but Ferraro galvanized the campaign and reshaped the American political and social landscape, an immutable legacy forged in part by her indomitable spirit and fiery ambition.
President Clinton appointed her United States Ambassador to the United Nations Human Rights Commission in 1994. In 2008, the Eleanor Roosevelt Legacy Committee honored her with its Pioneer in Politics Lifetime Achievement Award. Though an iron will was a part of Geraldine Ferraro's birthright—and a hallmark of her career— another symbol is also appropriate. In 2007, Fordham honored her at the School of Law with a commemorative rose. In recognition of her courage and grace and commitment to public service, the University planted the Geraldine Ferraro rose on the Lincoln Center and Rose Hill campuses, a fitting tribute to a woman whose life remains an inspiration to us all.