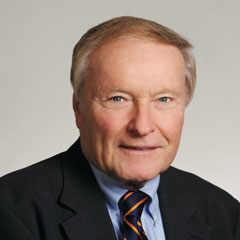 Herbert A. "Herb" Granath
Fordham College, Class of 1954
Graduate School of Arts and Sciences, 1955
Emmy Award-Winning Television Executive
(Inducted in 2022)

A longtime executive at ABC, Herb Granath was a pioneering force in media and entertainment. During a career spanning six decades, he guided the network's expansion into cable and international television, developing flagship stations like ESPN and introducing cultural touchstones like the History Channel.
Born and bred in Brooklyn, Granath was studying physics at Fordham College at Rose Hill when he spotted an advertisement for an NBC page pinned to a bulletin board in Dealy Hall. He landed the job, and his experiences at the network in the early days of television inspired him to pursue a master's degree in communications at Fordham. He graduated in 1955, one year after earning a bachelor's degree from Fordham College at Rose Hill.
Before long, Granath moved to ABC and steadily climbed the ranks of the company. He became chairman of the board of ESPN in 1984, after ABC purchased the still-nascent cable channel. Through his business acumen and love of sports, he helped turn ESPN into a juggernaut—and one of ABC's largest profit centers. His deep respect for arts and family entertainment spurred the launch of other influential networks, including the History Channel, Lifetime, the Hallmark Channel, and A&E.
Granath also helped ABC branch into theater, managing its investments in partnership with the Shubert Organization. When the Walt Disney Company acquired ABC and ESPN in 1995, Granath served as chairman of Disney/ABC International. From 2006 to 2009, he led the Academy of Television Arts & Sciences. He earned two Tony Awards for his work on Broadway and two Emmy Awards, one for lifetime achievement in international TV and one for lifetime achievement in sports.
In 2008, Fordham honored him with its Founder's Award. He often spoke about the enduring value of the liberal arts education he received at the University, noting that a course in logic was among the most influential he ever took. "It is amazing to me in American business how little a role logic plays," he told Fordham Magazine in 2007. "It has been a hallmark of the way I approach business."
As a Fordham trustee, a member of the University's President's Council, and a longtime supporter and leader of the University's fundraising campaigns, he gave generously to his alma mater. Through his efforts and example, current and future generations of Fordham students will continue to benefit from the same financial help and moral grounding that he credited with his own personal and professional success.