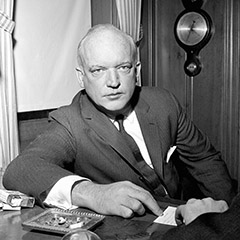 James B. Donovan
Fordham College, Class of 1937
Lawyer and Political Negotiator
Protagonist of Bridge of Spies
(Inducted in 2016)
From the 1940s until his untimely death in 1970, James B. Donovan brought intelligence, integrity, and courage to bear on some of the seminal events of his time.
He is perhaps best known for giving legal representation to an accused Soviet spy, a principled but unpopular act that would later allow him to bring off one of the most famous "spy swaps" in history. This remarkable story is told in his bestselling memoir Strangers on a Bridge and in the 2015 film Bridge of Spies, which starred Tom Hanks as Donovan.
Born in the Bronx, James Britt Donovan grew up wealthy but gained a lifelong commitment to faith and public service from his parents. In 1933 he enrolled at Fordham, where he played varsity tennis, served as editor-in-chief of The Ram, and, upon graduating, won his classmates' vote as "Best All Around Man" and the student who had "Done the Most for Fordham." He graduated from Harvard Law School in 1940 and married Mary McKenna, a Marymount College graduate, the following year. Commissioned a U.S. Naval Reserve officer during World War II, he served as general counsel in the newly created Office of Strategic Services, precursor of the CIA, and arranged for German concentration camps to be filmed as they were liberated. Later, as an assistant prosecutor at the Nuremberg trials, he was responsible for presenting all visual evidence of Nazi atrocities.
In 1957, after he had become a high-powered insurance lawyer in New York, Donovan's bar association peers recommended him to defend Rudolf Ivanovich Abel, accused of being a Soviet spy. Abel was convicted, but Donovan—vilified as a "commie lover" for taking the case—saved him from the death penalty, in part by arguing that he might be useful if the Soviets captured "an American of equivalent rank." He was proved right when, in 1960, U.S. pilot Francis Gary Powers was captured in Russia. Working with U.S. government approval, Donovan traveled to East Berlin and secured the release of Powers and another American in exchange for Abel, following what he called a "war of nerves" with the KGB. In awarding him an honorary degree in June 1962, Fordham hailed him as "the most successful American practitioner of metadiplomacy."
Donovan followed this success by meeting with Fidel Castro in Cuba to secure the release of more than 1,100 CIA-trained soldiers captured in the United States' failed Bay of Pigs invasion, along with more than 8,000 of their relatives. He was president of the New York City Board of Education from 1963 to 1965, and was serving as president of Pratt Institute when he died from a heart attack at age 53, on January 19, 1970.
Robert I. Gannon, S.J., former president of Fordham, shared his impressions of the "quiet, shrewd" former student while eulogizing him at St. Patrick's Cathedral: "I came to know Jim Donovan as the kind of student we had in mind when we started the place in 1841, the kind we wanted to graduate in 1937: intelligent, fearless, and good."