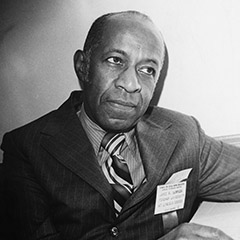 James Dumpson
Dean, Graduate School of Social Service
Commissioner, New York City Department of Welfare
(Inducted in 2016)
With a groundbreaking career in health and human services that spanned nearly half a century, James R. Dumpson helped create hope for generations of Americans in need.
Nicknamed "Little Dynamo" for his diminutive stature and boundless accomplishments, he fought fiercely for the rights of children, the poor, the infirm, and the elderly. From 1967 to 1974, Fordham was fortunate to have him as dean of its Graduate School of Social Service, where his commitment to public service inspired faculty and students, and where his legacy endures to this day.
Dumpson pushed limits and broke barriers—for others as well as for himself. In 1959, Mayor Robert Wagner appointed him as New York City's first black welfare commissioner. He developed a reputation as a vocal advocate for the poor. When some critics implied that welfare recipients were lazy, Dumpson said such rhetoric has "no place in the kind of war on poverty I am advocating." In his earlier role as director of the city's child welfare bureau, Dumpson worked to desegregate the foster care system and improve conditions for black and Latino children. His lifelong dedication to the care of young people inspired Fordham to endow a faculty chair in child welfare. In 1981, he became the first to fill it.
Adamant that the nation's social workers should reflect the diversity of the people they serve, Dumpson worked to increase diversity among social work faculty and students when he was president of the Council on Social Work Education.
At the Graduate School of Social Service, he led a dramatic shift in the makeup of the faculty, expanding it in terms of background, interest, and experience. A convert to Catholicism, Dumpson said he "always admired the liberalism and the scholarship of the Jesuits." His appointment at Fordham made him the first black dean of a nonblack school of social work in the country. With his strong ties to government, Dumpson strengthened the University's connections to the city and state.
Dumpson never quit fighting for those in need—at home and abroad. In the 1980s, he led a Fordham social service fieldwork trip to refugee camps in Thailand. It was far from his first overseas assignment. In 1953, he served as U.N. adviser to Pakistan, helping to establish formal social work education in the then-fledgling nation, and in the 1970s he worked with refugees in South Vietnam as chairman of the U.S. Agency for International Development. In the 1990s, he chaired the New York City Health and Hospitals Corporation, where he fought to address the horrific impact of AIDS on black communities. He died in 2012 at age 103, having dedicated his life to striving for what he called "a caring society for all Americans."