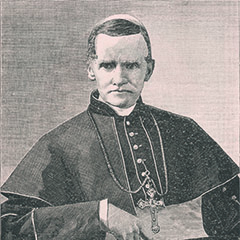 John Cardinal McCloskey
First President of St. John's College
Archbishop of New York
First American Named to the College of Cardinals
(Inducted in 2008)
When John McCloskey was a young man, he suffered a serious accident that changed the course of his life and decided his vocation. Buried beneath a wagon full of timber, McCloskey was briefly blinded and remained unconscious for several days. Slowly his sight returned. With it came the conviction that he should enter the priesthood and dedicate his life to working for New York City's less fortunate.
Ordained in 1834, he studied briefly in Rome before returning to New York City in 1836 to serve as pastor of St. Joseph's Church in Greenwich Village. He was named the first president of St. John's College in 1841 (a post he held for little more than a year) and served as coadjutor bishop of New York from 1843 to 1847, when he was appointed Bishop of Albany. After Fordham's founder, Archbishop John Hughes, died in 1864, McCloskey was appointed archbishop of New York.
Under his leadership, the archdiocese added several religious communities and charitable institutions to care for the city's abandoned and neglected children. At the same time, he oversaw the construction of 87 new churches, including the first parish for black Catholics as well as new churches for the growing Polish and Italian communities. He also doubled the number and capacity of Catholic schools. In 1875, he became the first American cardinal when he was elevated to the College of Cardinals by Pope Pius IX.
Today, his spirit of selflessness and compassion is evident in the University's social work program and in its Graduate School of Social Service, which has trained legions of Fordham social workers committed to doing the world a world of good.