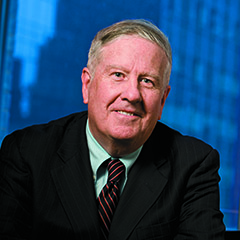 John D. Feerick
Fordham College at Rose Hill, Class of 1958
School of Law, Class of 1961
Dean, Fordham Law School
(Inducted in 2010)
In "As Kingfishers Catch Fire," the 19th-century Jesuit poet Gerard Manley Hopkins wrote, "I say more: the just man justices;/Keeps grace: that keeps all his goings graces." These lines are an appropriate description of John Feerick, who has worked tirelessly to promote ethics in government and to ensure social justice for the people of New York state—particularly its most underprivileged citizens.
A graduate of Fordham College at Rose Hill, Feerick earned his law degree at the University's School of Law, then located at 302 Broadway. As editor-in-chief of the Fordham Law Review, he wrote an article about presidential succession, which later served as the foundation of the 25th Amendment to the Constitution, an amendment Feerick helped draft at the invitation of the American Bar Association in 1964. His efforts led to a Pulitzer Prize nomination and established his reputation as one of the sharpest legal minds of his generation.
In 1982, following a 21-year legal career at Skadden, Arps, Slate, Meagher & Flom, he became dean of Fordham Law. During his 20-year tenure, he built the law school's ethics and dispute resolution curriculum, public service and clinical programs, as well as various centers and institutes. His dedication to the Jesuit philosophy of service to others led to the establishment of nationally recognized programs in legal ethics, public interest law, clinical legal education, and international human rights.
Widely respected for his mediation and arbitration skills, Feerick served as the inaugural chair of the ethics committee of the Dispute Resolution Section of the American Bar Association. He also chaired a joint committee of legal, arbitration, and conflict resolution professionals that generated national standards for mediation, and he adjudicated several high-profile labor cases, including the 1994 transit negotiations in New York and the 1999 National Basketball Association lockout.
Feerick has also held a number of public positions. He served as a member of the New York State Law Revision Commission and the New York State Committee to Promote Public Trust and Confidence in the Legal System, and he was chair of the state's Commission on Public Integrity.
In 2006, Fordham University established the Feerick Center for Social Justice at Fordham Law School. The center's mission reflects that of its founding director: to protect the underprivileged from a wide array of social ills, while working to bolster workers' rights and access to legal services.