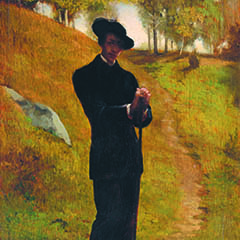 John LaFarge
St. John's College, Second Division
Class of 1852
Artist
(Inducted in 2008)
A native son of New York City, John LaFarge, painter, stained-glass window maker and decorator, became interested in art during his studies at St. John's College. LaFarge's passion took root during a postgraduate visit to Paris, where he studied painting with Thomas Couture. Upon returning to the States, he worked closely with painter William Morris Hunt and settled in Newport, Rhode Island, which would become LaFarge's spiritual and artistic home for the next two decades. He exhibited his still lifes and plein-air landscape paintings at the National Academy of Design in New York City throughout the 1860s, but his restless spirit and inquisitive mind led him to experiment with stained glass, a medium with which his name would forever be linked.
With the introduction of opalescent glass and other unconventional materials, LaFarge lifted the medium to previously unimaginable heights. In 1876, he was commissioned to design the interior of Trinity Church in Boston, Massachusetts. The murals and stained-glass designs he created were greatly admired, leading to a number of important commissions for public buildings, including St. Thomas' Church and the Church of the Ascension in New York City, as well as private commissions for Cornelius Vanderbilt and other prominent patrons.
For his innovative work, LaFarge earned the Cross of the Legion of Honor from the French government, and membership in the principal artistic societies of America, as well as the presidency of the Society of Mural Painters. In 1904, he was one of the first seven men chosen for membership in the American Academy of Arts and Letters. Though naturally a skeptic, LaFarge nevertheless venerated the traditions of religious art and preserved always his Catholic faith.