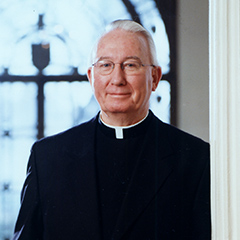 Joseph A. O'Hare, S.J.
Graduate School of Arts and Sciences, Class of 1968
31st President of Fordham University
(Inducted in 2009)
A master builder, educator, writer, civic leader, and priest, Joseph A. O'Hare, S.J., transformed Fordham from a strong regional commuter school to a national research university. When he retired as president of Fordham in 2003, he left behind a University physically expanded, academically renewed, and, more than ever before, a prominent player in shaping the destiny of New York City, the global capital Fordham calls home.
Born in New York City, Father O'Hare graduated from Regis High School and entered the Society of Jesus in 1948. He studied for the priesthood and taught in the Philippines before his ordination at Fordham University Church in 1961. Father O'Hare earned a doctoral degree in philosophy at the University's Graduate School of Arts and Sciences in 1968 and joined America magazine as an associate editor in 1972, becoming its editor-in-chief within three years. His column, "Of Many Things," was recognized four times by the Catholic Press Association as the best regular magazine column.
In 1984, he became Fordham University's 31st president. In his inaugural address, Father O'Hare sounded the keynote for his administration, urging faculty and students to be "both the critical conscience and creative consciousness of the city." He set the tone with his own civic involvement. In 1988, New York City Mayor Edward I. Koch appointed him to serve as the inaugural chairman of the city's Campaign Finance Board, a post he held for 15 years.
During his 19-year presidency, a tenure longer than that of any previous Fordham president, Father O'Hare reshaped the face of the University. He oversaw the construction of four residence halls at Rose Hill—Tierney Hall, Alumni Court North (later renamed Loschert Hall), Alumni Court South, and Millennium Hall (later renamed O'Hare Hall in his honor). And he transformed Lincoln Center into a residential campus with the completion of McMahon Hall in 1993. His crowning achievement remains the William D. Walsh Family Library, one of the most sophisticated university libraries in the country and a neo-Gothic symbol of the University's commitment to academic excellence, its reverence for the past, and its faith in the future.
Upon his retirement as president, the University presented Father O'Hare with the Fordham Founder's Award in recognition of his 19 years of service and for creating the modern University we celebrate today.