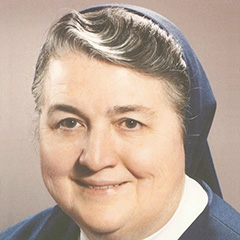 Mary Rose McGeady, D.C.
Graduate School of Arts and Sciences, Class of 1961
President and CEO, Covenant House
(Inducted in 2009)
When Mary Rose McGeady, D.C., was named president and chief executive officer of Covenant House in 1990, the New York-based shelter for homeless and runaway youths was in the middle of a financial and institutional crisis. By her retirement 13 years later, Sister McGeady had revitalized Covenant House into one of the country's most effective charitable agencies.
Born in Hazleton, Pennsylvania, Sister McGeady grew up in Washington, D.C. She entered the Daughters of Charity in 1946 and later moved to Boston, Mass., where she worked at the Nazareth Child Care Center, while attending Emmanuel College. She joined the staff of the Astor Home for Children, a treatment center for disturbed youth in Rhinebeck, New York, in 1955. After earning a master's degree in clinical psychology at Fordham, she headed the Astor Home for five years, from 1961 to 1966, and continued to work with children in Massachusetts and New York. In 1987, she was appointed associate director of the Brooklyn Diocese's Catholic Charities, heading the network's operations in Queens.
Following the sudden resignation of the founder of Covenant House in 1990, Sister McGeady was asked to take over. Initially, she did not want the job, but she prayed and made a covenant with God, she said, to try to make it work. And did she ever. She stared down a staggering $38 million debt—and inspired a frustrated staff of 1,200 to breathe new life into the agency's wide array of services and programs. In the process, she helped transform the lives of hundreds of thousands of children in 21 cities and five different countries around the world.
Her tireless efforts on behalf of Covenant House inspired John Cardinal O'Connor to say this of its gregariously tough president: "She's about as no-nonsense looking as they come, even when she smiles, which is often. It's a bright and warm smile, but it turns up ever so slightly at one end, as if to say, 'I'm a very friendly lady, but don't try to push me around.'"
Sister McGeady's enduring spirit of service and social justice reflects the timeless mission of Fordham University. Her legacy is evident in the work of the University's Interdisciplinary Center for Family and Child Advocacy and in the Graduate School of Social Service's Institute for Women and Girls.