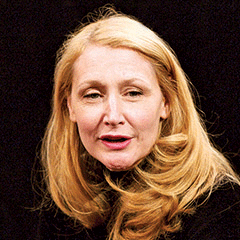 Patricia Clarkson
Fordham College at Lincoln Center, Class of 1982
Award-Winning Actress
(Inducted in 2016)
Patricia Clarkson once told a group of Fordham Theatre students that acting was the only thing she's ever wanted to do. Fortunately for her, and for audiences everywhere, she's been doing it for a long time.
Since the mid-1980s, the Emmy Award winner has been lighting up the stage and screen with her sly smile and sultry voice, choosing complex, multidimensional roles that showcase her unique talent. She's been called an indie darling, a character actor, and a scene-stealer, garnering praise for large and small parts alike.
Clarkson made her film debut as the pregnant wife of Eliot Ness in the 1987 hit The Untouchables. Her breakthrough role came in the independent 1998 feature High Art, in which her portrayal of a formerly glamorous heroin addict earned her a best supporting actress nomination from the National Society of Film Critics. Indie Wire said she turned the supporting role into "pure magic." In 2003 she earned an Academy Award nomination for her role in Pieces of April, as well as the Sundance festival's Special Jury Prize for acting. She's collaborated with legendary directors, like Woody Allen in Vicky Cristina Barcelona, and played opposite other esteemed actors, like Ben Kingsley in Learning to Drive.
On the small screen, Clarkson earned two Emmy Awards for her turn as the free- spirited Aunt Sarah on the HBO series Six Feet Under. More recently, she showed off her comedy chops in the NBC mockumentary Parks and Recreation as Tammy One, the parks department head's conniving first wife.
A New Orleans native, Clarkson transferred from Louisiana State University to Fordham, where she graduated summa cum laude with a B.A. in theater. She earned an M.F.A. from the Yale School of Drama and shortly afterward made her Broadway debut in The House of Blue Leaves. Her later role in The Maiden's Prayer earned her Outer Critics Circle and Drama Desk award nominations. The New York Times praised her "focused" performance, noting that she played the part with "equal parts sharp-edged surface and dissolving center." She earned a Tony nod for her role in 2014's The Elephant Man on Broadway.
Clarkson speaks out about subjects that are important to her. After the 2010 BP oil spill disaster in the Gulf of Mexico, she publicly urged a tough focus on cleanup and a continued vigilance about offshore drilling regulations. She has fervently voiced her support for gay rights. And she has no patience for sexism in Hollywood.
Responding to complaints about the female-fronted Ghostbusters film in June 2016, she told The Guardian, "There are still so many movies made starring 50 men and one woman!"
Her deeply held beliefs have served her well. "I have very strong ideas and strong convictions," she once told the Times, "and I think I have brought to fulfillment the life I've really always wanted."