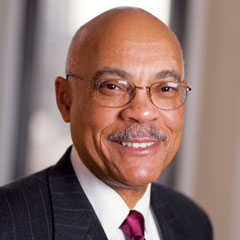 Peter B. Vaughan
Dean, Graduate School of Social Service
Recipient of a Lifetime Achievement Award
from the National Association of Social Workers
(Inducted in 2022)

A pioneer in the field of social work—and a longtime advocate for civil and human rights—Peter B. Vaughan has fought poverty and injustice for more than six decades. As dean of the Fordham University Graduate School of Social Service from 2000 to 2013, he expanded the school's influence and impact internationally, instilling in every course and client-focused program a commitment to social justice and an unshakeable focus on bringing lasting change to communities that have been marginalized or oppressed.
Born in Virginia, he attended Temple University in Philadelphia, where he participated in voter registration and court watching projects in Black communities, and where he was an ROTC cadet. He was commissioned as an officer in the U.S. Army upon graduation from Temple. After earning a Master of Social Work degree at Wayne State University, he entered the military, where his first assignment was as a social work officer at Fitzsimons General Hospital in Denver, Colorado. His second assignment was with a combat unit in Vietnam, where he tended to the mental health needs of soldiers. He was awarded the Bronze Star for Meritorious Service.
Upon returning to the States, Vaughan earned a Ph.D. in social work and psychology from the University of Michigan at Ann Arbor. While pursuing his doctorate, he developed a social work department in a community health program in Detroit, where he also founded an outpatient mental health center. He began his career as an educator at Wayne State University in 1976. Five years later, he joined the faculty at the University of Pennsylvania School of Social Work, where he served as associate dean and acting dean before arriving at Fordham in 2000.
At Fordham, he initiated a global services specialization that prepares students to work within immigrant communities and with international nongovernmental organizations. He oversaw the launch of the school's online MSW program, the first in New York state, and the introduction of a new curriculum that prioritizes human rights and social justice. He also was a founding co-chair of the Fordham Veterans Initiative, which brings military veterans to Fordham on the Post-9/11 GI Bill and helps them thrive at and beyond the University.
In 2012, just as U.S. News & World Report ranked the Graduate School of Social Service No. 11 in the nation among graduate schools of social work, Vaughan earned top honors of his own: The National Association of Social Workers, which had recently named him a Social Work Pioneer, presented him with the Knee/Wittman Lifetime Achievement Award for his commitment to social work education, the military, and the aging.
When he retired as dean in 2013, the University awarded him its President's Medal in recognition of his "kind and visionary leadership" as an educator, and as a tribute to his lasting impact on the University's ability to "lead well and serve wisely."