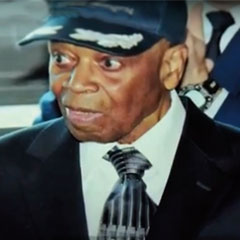 Reginald T. Brewster
School of Law, Class of 1950
Tuskegee Airman and Attorney
(Inducted in 2022)

Defending the nation's highest values while standing up to its basest instincts and most backward-looking institutions, Reginald T. Brewster helped transform what it means to be an American. During World War II, he served as a Tuskegee Airman, part of a group that included the first Black military aviators in the U.S. Armed Forces. Upon returning to the United States, he earned a Fordham Law degree and practiced law for nearly six decades.
Brewster was among roughly 16,000 men in the all-Black group of military pilots, technicians, navigators, ground controllers, maintenance workers, and other support staff. The group was named after the Tuskegee Institute in Alabama, where service members were trained. During the war, Brewster was stationed in England and France, where he served as secretary to the Air Force Base Commander. After sustaining a shrapnel injury, he was honorably discharged. Upon his return home, however, he encountered racism and "sharp" discrimination, he said, twin evils that he and other servicemen also fought against in the form of fascism during the war.
To combat inequality at home, Brewster was determined to complete his education. He studied government and math at Fordham College before enrolling at Fordham Law School. While taking classes at night, he served as a clerk in the New York City Transit system, then called the New York City Board of Transportation. He earned a J.D. in 1950 and began practicing civil law in the New York City area, a practice he maintained until his retirement six decades later, in 2007, at the age of 90. That same year, the Tuskegee Airmen were awarded the Congressional Gold Medal. On April 15, 2012, as part of Jackie Robinson Day celebrations at Yankee Stadium, Brewster joined fellow surviving Tuskegee Airmen on the field of the famed Bronx stadium, where he was recognized with other Black trailblazers and barrier breakers, each one an American hero.
Today, Fordham honors his legacy throughout the University. In 2018, the Black Law Students Association at Fordham Law presented Brewster with its Ruth Whitehead Whaley Award, given to alumni who demonstrate excellence in the legal profession and provide an exemplary model for emerging Black lawyers. Brewster's example also inspires the work of Fordham's Office of Military and Veterans' Services, which supports students who, like Brewster, believe a college education is the best way to transition from the military to a fulfilling civilian life and career.