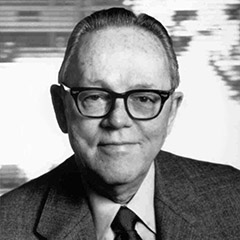 Richard J. Bennett
Fordham College, Class of 1938
School of Law, Class of 1942
Chief Executive Officer, Schering-Plough Corporation
(Inducted in 2008)
For Richard J. "Dick" Bennett, the value of a business was never measured by its bottom line; instead, a business's true worth was reflected in how it interacted with the world at large.
At once a discerning attorney, beneficent chief executive, and amateur philosopher, Bennett underlined his business acumen with an unwavering sense of right and wrong and an abiding respect for humanistic values, which he championed always, publicly and privately, both in the boardroom and at the kitchen table. Long before the term "corporate social responsibility" entered the cultural lexicon, Bennett, as chairman of Schering-Plough, worked to reconcile ethics with emerging technologies in the business world.
A 1938 graduate of Fordham College and a 1942 graduate of Fordham Law School, Bennett joined Schering in 1947 as a member of the legal staff. In 1970, he was elected vice president, secretary, and general counsel of Schering-Plough, following the multinational pharmaceutical firm's merger with Plough Inc. He was named president and chief executive officer in 1978 and was appointed chairman in 1980. That same year, Bennett became chairman of Fordham University's Board of Trustees, a post he held with distinction for six years. During his tenure, he worked with the administration to fulfill for each student the Jesuit promise of cura personalis, or care for the whole person.
In 1993, the Fordham Corporate Counsel Association established the Richard J. Bennett Memorial Award, which recognizes corporate leaders with the highest standards of ethical conduct, moral purpose, and selfless commitment.