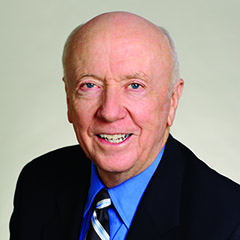 Robert E. Campbell
Gabelli School of Business, Class of 1955
Vice Chairman, Johnson & Johnson
(Inducted in 2011)
Robert E. Campbell, former vice chairman of Johnson & Johnson, has engaged the world through the Ignatian principle of cura personalis, or care for the whole person—body, mind, and soul. Through his inspiring professional and philanthropic endeavors, Campbell stands as a shining example of what it means to be a graduate of Fordham University.
A native of New Jersey, Campbell commuted to Fordham University from his hometown of Passaic to attend classes at the College of Business Administration, now known as the Gabelli School of Business. During his senior year, he was recruited by Johnson & Johnson, where he worked for the next 40 years, save for three years when he served as an officer in the U.S. Air Force.
At Johnson & Johnson, he held numerous positions in financial and general management, including treasurer and chief financial officer, and served as a member of the executive committee, spearheading revolutionary developments for the international pharmaceutical giant, including disposable contact lenses, life-saving cardiovascular stents, and endoscopic surgery.
After retiring in 1995, Campbell dedicated his time, intellect, and generosity of spirit to helping others, lending his support and counsel to local community-service and healthcare organizations. He served as chairman of the Robert Wood Johnson Foundation, whose mission is to improve the health and healthcare of every American, and the Cancer Institute of New Jersey.
As chairman of the Fordham University Board of Trustees from 1992 to 1998, he oversaw a period of sustained growth for the University. And as a trustee emeritus, he continued to set the standard of generosity, service, and dedication through his personal philanthropy. In 2001, he established the Robert E. Campbell Endowed Scholarship Fund at Fordham, which supports intellectually curious young men and women in financial need. When Joseph A. O'Hare, S.J., retired in 2003, after 19 years as University president, Campbell led the national search committee, which selected Joseph M. McShane, S.J., as the University's 32nd president.
For his efforts on behalf of the University, Fordham presented Campbell with its Founder's Award in 2008. Fittingly, his name is etched in two places on the Rose Hill campus, both at the intersection of life and learning: Campbell Atrium, in the William D. Walsh Family Library, and Campbell Hall, a residence hall named in recognition of his family's $10 million gift to Fordham, one of the largest in University history. "There is a concept of family and bonds of friendship," he has said, "that young people develop when they live on our Fordham campuses."