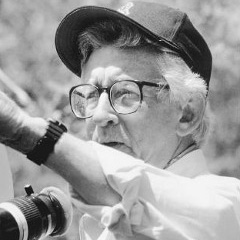 Robert P. Mulligan
Fordham College at Rose Hill, Class of 1948
Award-Winning Director and Producer
(Inducted in 2009)
Harper Lee once described Atticus Finch, the moral center of her seminal novel, To Kill a Mockingbird, as a "man of absolute integrity with as much good will and good humor as he is just and humane." The same might be said of Robert P. Mulligan, the Academy Award-nominated director who helped Gregory Peck bring to life Lee's timeless character on the big screen.
Born in the Bronx, Mulligan initially studied for the priesthood before serving in the U.S. Navy during World War II. After the war, he worked briefly as a clerk in the telegraph office of The New York Times before earning a bachelor's degree with a concentration in radio at Fordham College at Rose Hill in 1948, the same year the University established what would become the Department of Communication and Media Studies—and one year after the creation of WFUV, the University's public radio station.
Originally a page at the CBS network, he eventually worked his way up to directing television plays sponsored by commercial companies, collaborating with writer Gore Vidal and an up-and- coming Paul Newman in the Philco Television Playhouse's production of The Death of Billy the Kid (1955), before directing his first film, Fear Strikes Out (1957), which starred Anthony Perkins.
Known as an "actor's director," he brought out the best in some of Hollywood's greatest talents, including Peck, Natalie Wood, Steve McQueen, Sidney Poitier, Laurence Olivier, and fellow Fordham graduate Alan Alda, FCRH '56, among countless others. He also had an eye for new talent, giving Robert Duvall and Reese Witherspoon their first starring roles.
In 1962, Mulligan earned Academy Award and Directors Guild of America nominations for best director for To Kill a Mockingbird. Ten years later, he earned a Golden Globe nomination and a second Directors Guild of America nomination for Summer of '42, a film about an affair between a teenager and an older woman whose husband is away at war.
Mulligan's films often focused on a young protagonist's attempt to make sense out of a morally ambiguous world, most notably in his masterpiece, To Kill a Mockingbird, whose message of social justice, racial tolerance, and human decency still resonates today.