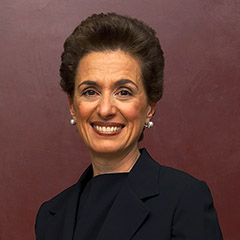 Rose Marie Bravo, CBE
Thomas More College, Class of 1971
Chief Executive Officer, Burberry
(Inducted in 2011)
Rose Marie Bravo is an icon of the fashion industry, as timeless as the Burberry tartan she helped make famous. Known throughout the industry as the force behind the fashion house's resurgence, Bravo breathed new life into the 19th-century British brand, transforming Burberry into one of the most recognizable luxury brands in the world.
Born Rose Marie La Pila, Bravo grew up in the Bronx, the daughter of an Italian-born barber and a seamstress from Sicily. She graduated from the Bronx High School of Science before earning a bachelor's degree in English cum laude at Fordham University's Thomas More College in 1971. In keeping with her ambitious nature, she graduated in two-and-a-half years.
After graduating, she became an assistant buyer for Abraham & Strauss, a New York City department store chain. She joined Macy's, the landmark Manhattan retailer, as an assistant buyer three years later, in 1974. She was promoted to group vice president responsible for cosmetics, contemporary sportswear, and coats, eventually becoming senior vice president of merchandising. When Macy's acquired I. Magnin, a high-end California-based retailer, in 1988, Macy's executives chose Bravo to head the company.
In 1992, she became the first woman president of Saks Fifth Avenue, where she added a number of hip luxury labels, such as Gucci and Prada, to the store's sales floor and introduced new fragrance lines to its cosmetics counters. She took over Burberry five years later, in 1997, and immediately revived the company. Under her stewardship, Burberry's annual sales jumped from $470 million to more than $1 billion. In recognition of her service, Queen Elizabeth II named Bravo a Commander of the British Empire in June 2006.
Like Estée Lauder and Helena Rubenstein before her, Bravo established a standard of excellence for future generations of female—and male—executives to aspire to. In 1996, Crain's New York Business named Bravo one of the 75 Most Influential Women in business, and in 2005 Forbes magazine included her in its annual list of the 100 Most Powerful Women in business.
A longtime member of the Fordham University Board of Trustees and a 2006 recipient of the Fordham Founder's Award, Bravo is a strong and impassioned advocate for higher education, most recently during Excelsior | Ever Upward | The Campaign for Fordham. In 2003, Bravo established the Biagio and Anna Lapila Endowed Scholarship Fund in honor of her parents. "I would be happy," she has said, "if my legacy was that one kid, one young man or one young woman, made it through, that maybe would've never had the chance to get the quality education that Fordham University offers."