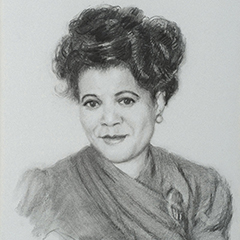 Ruth Whitehead Whaley
School of Law, Class of 1924
(Inducted in 2014)
Long before the civil rights movement of the 1960s, Ruth Whitehead Whaley was blazing a trail for black women—and all women—in the legal profession and politics.
In 1925, the year that future civil rights leaders Robert F. Kennedy and Malcolm X were born, a year that saw 17 known lynchings of black Americans, Ruth Whitehead Whaley became one of the first black women admitted to practice law in New York. She was also the first black woman to enroll at Fordham Law School, where she graduated in 1924 at the top of her class.
In 1933, Whitehead Whaley became the first black woman to practice law in her home state of North Carolina. She also maintained a private practice in New York until 1944. She was later appointed secretary of the New York City Board of Estimate, which worked in tandem with the City Council. She served in that post from 1951 to 1973.
Whitehead Whaley argued before the Second Circuit Court of Appeals many times during her remarkable career. She became a recognized expert in civil service law, representing black local government employees—including her husband—in discharge proceedings. In 1949, she penned an essay titled "Women Lawyers Must Balk Both Color and Sex Bias." In it she expressed concern about the continued dearth of black female lawyers in the country, writing that in 1920, there were only four. By 1949, there were fewer than 150, and fewer than 100 who were practicing.
The high expectations placed on black female lawyers by colleagues and the community, she wrote, were the "penalty usually exacted from a minority or from pioneers." And all female lawyers had to outperform their male counterparts, she quipped, lest one of those men "forgets to be gallant in his thinking and the overlooked errors of a male colleague become the colossal blunders of a woman." Despite the pressures and inequities she encountered, Whitehead Whaley said of her chosen field: "My admiration is undimmed."
Her colleagues recognized her courage and her competence. Whitehead Whaley was the first president of the New York City National Association of Negro Business and Professional Women, and served as president of the National Council for Negro Women. She also was a member of the Fordham University Council, a body of prominent individuals who served as ambassadors for the University. A number of societies, awards, and scholarships are named in her honor. The Association of Black Women Attorneys' Ruth Whitehead Whaley Scholarship is awarded annually to law students on the basis of service to their community and financial need.
At Fordham, students in the top 25 percent of each class at the School of Law are honored as Ruth Whitehead Whaley Scholars. And the Black Law Students Association bestows an annual Ruth Whitehead Whaley Trailblazing Alumnus Award, presented to alumni who embody Whitehead Whaley's "bold spirit and commitment to excellence."