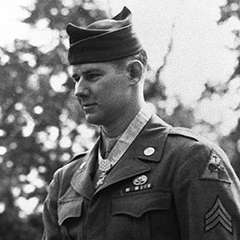 Thomas J. Kelly
Undergraduate School of Education, Class of 1956
School of Law, Class of 1962
Sergeant, United States Army
Recipient of the Medal of Honor
(Inducted in 2016)
As a medic in the U.S. Army during World War II, Thomas J. Kelly saved 17 lives in one day by showing "gallantry and intrepidity in the face of seemingly certain death." So reads his citation for the Congressional Medal of Honor. He would show that same spirit of service for the rest of his life by helping others who were affected by that titanic conflict.
Born in Brooklyn, Kelly eagerly sought to join the military on December 8, 1941, the day after the attack on Pearl Harbor. Turned away from the U.S. Marines because of his vision, he was drafted into the Army and trained as a medic but at his request was designated an infantryman with medical training. He saved many lives during combat across Europe, including those of wounded Germans who had been left behind.
On April 5, 1945, he was serving as a corporal with the 48th Armored Infantry Battalion as part of the Allied assault on the German town of Alemert in the Ruhr Valley. As his platoon was crossing an open valley, enemy fire from the overlooking woods forced a withdrawal, during which Kelly led seven troops blinded in the attack to safety. Then, instinctively, he turned around and crossed the 300-yard expanse of pasture 10 times and ultimately rescued 17 men. Two fellow soldiers died helping him retrieve the wounded. Twice he was knocked unconscious in collisions while bringing men to safety, and each time, loaded onto a jeep for evacuation, he woke up and got off so he could run back up the murderous hill. Exhausted to the point of collapse, he refused to leave his platoon until it had seized its objective. He was awarded the Medal of Honor seven months later, on November 1, 1945.
Kelly enrolled at Fordham soon after, working his way through the Undergraduate School of Education over 10 years and graduating in 1956. After earning a law degree from Fordham Law School in 1962, he worked for the Veterans Administration for 36 years and, for his last dozen, served as a liaison helping veterans find jobs in private industry. He raised a family with his wife, Wilma; co-founded the Congressional Medal of Honor Society and served as its president; set up a fund to help widows and orphans of medal recipients; and organized events to raise money for veterans' benefit. He was living in Margate, New Jersey, at the time of his death in 1988, and is buried in Arlington National Cemetery.
Mention of his medal made him think of the sacrifices of others, as was clear in his 1987 interview for the U.S. Army Medical Department's oral history program: "I feel so bad," he said, "about all the fellows that performed all those deeds deserving the Medal of Honor, who were never seen."