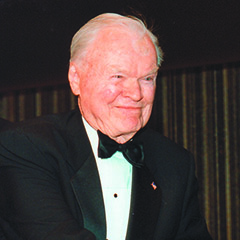 Wellington Mara
Fordham College, Class of 1937
Owner of New York Giants
(Inducted in 2008)
Once the youngest owner of a professional sports team, Wellington Mara grew to become the patriarch of the National Football League and a widely recognized pillar of strength, compassion, and faith for his work with his beloved New York Giants and on behalf of the rest of the league.
When he was nine years old, Mara joined the Giants as a ball boy shortly after his father purchased the team. In 1930, he took over control of the team when his father named him and his brother Jack co-owners. Mara was 14 at the time. Aside from a four-year stint as a lieutenant commander with the U.S. Navy during World War II, he never left the team.
Under his stewardship, the Giants became one of the marquee names in professional sports, winning six league championships—including two Super Bowls—nine conference championships, and 13 division championships. From 1971 to 1977, Mara was the chairman of the executive committee of the NFL Management Council. He was elected president of the National Football Conference in 1984 and also served on the league's Hall of Fame committee. Mara was an early, avid supporter of the league's plan to divide equally among small and big market teams the revenue from its national television broadcasts, which helped make the NFL what it is today: the country's most popular professional sports league. In 1997, he was inducted into the Pro Football Hall of Fame.
A generous supporter of Fordham and its football program, Mara instituted the Mara Family Award to honor Fordham alumni who make an outstanding contribution to the program. In 1972, he was inducted into the Fordham Athletics Hall of Fame and, in 2002, the University honored him as one of the first recipients of the Fordham Founder's Award. Mara is remembered for the integrity and class that he brought to one of the country's finest sports franchises and the National Football League. At Fordham, he is recalled with fondness and admiration for a life reflective of the Jesuit principles of charity and compassion.