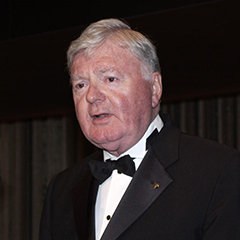 William D. Walsh
Fordham College at Rose Hill, Class of 1951
Founder and Chairman, Sequoia Associates
(Inducted in 2009)
The William D. Walsh Family Library—a masterpiece of modern Gothic design—is built of bricks and mortar, stone, steel, and glass, but it has as its foundation the unmatched generosity and unwavering commitment to Fordham University of William D. Walsh.
After earning his bachelor's degree in history at Fordham College at Rose Hill in 1951, Walsh graduated from Harvard Law School four years later. As an assistant United States attorney, he ran the narcotics investigations in New York City's garment and waterfront districts for three years. His work led to the indictment of Vito Genovese, the leader of the Genovese crime family. Later, as counsel to the New York State Commission of Investigation, he brought down a number of organized crime's illegal gambling rackets before working as a consultant with McKinsey and Company and, later, as the president and CEO of Arcata Corporation. He established Sequoia Associates, a private investment firm that specializes in leveraged buyout, in 1982.
But before he was an executive in an investment firm, a federal prosecutor, or a student of the law, William Walsh was a devotee of the ancient world. His love for ancient art ripened during his time at Fordham and continued for decades as he built his own impressive collection of artifacts. At the same time, Walsh put together an equally remarkable history of philanthropy.
A member of Fordham University's Board of Trustees, Walsh and his family donated $10 million toward the construction of the $54 million William D. Walsh Family Library on the Rose Hill campus in 1997. Occupying more than 240,000 square feet on five floors and containing more than 2 million volumes, the library hosts more than 2,500 students each day and rivals Keating Hall, Rose Hill's signature building, in its beauty and grandeur. The library is also the home of the Fordham Museum of Greek, Etruscan, and Roman Art, featuring more than 260 antiquities from Walsh's personal collection, which he and his family donated to Fordham in 2007.
Walsh has worked tirelessly to enrich the cultural and intellectual life of Fordham University through his private counsel, quiet humility, and continued beneficence. In 2002, Fordham University honored Walsh with the Fordham Founder's Award, which recognizes individuals whose personal and professional lives reflect the highest aspirations of the University's defining traditions, as an institution dedicated to wisdom and learning in the service of others.