About the Army ROTC Program
Fordham's history includes six Congressional Medal of Honor recipients. Fordham Army ROTC's Hall of Fame honors 16 general officers who came from Fordham.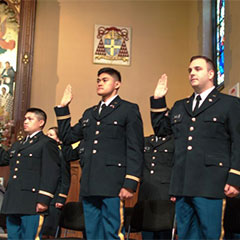 The Army Reserve Officers' Training Corps (ROTC) program at Fordham provides training for students from 32 colleges and universities. You will have the opportunity to train, learn about leadership and management, and pursue academic studies. If eligible, upon successful completion of the program and graduation from college, you will be able to serve as an Army lieutenant in either the active Army or Reserve components.
If you are eligible and join Army ROTC you will have a lot of responsibilities. Army ROTC Cadets have challenging schedules, engage in demanding training, and must manage their time wisely.
Physical training is conducted three times a week in the early morning. You will be pushed and challenged.
ROTC lab and class is conducted once a week. You will learn hands-on skills and participate in classes supervised by experienced Cadre.
Cadets attend Advanced Camp typically between their junior and senior year to develop their military skills and leadership.
Our graduates serve in the Active Duty Army, Army Reserve, or National Guard in one of dozens of career fields such as Military Police, Infantry, Artillery, and more.
Graduates have incredible opportunities to pursue great careers. Many of our Cadets who pursue service in the Army Reserve or National Guard are able to take advantage of priority hiring interviews with companies, corporations, and public institutions through the Army's Partnership for America's Youth Success (PaYS).
here. about our program.
This website domain is provided by Fordham University. Information is published in the interests of faculty and students. For more information please visit the official US Army ROTC site.