Army ROTC Information for High School Students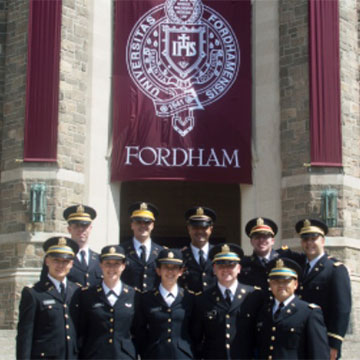 If you are a high school student you may be interested in the High School Scholarship Program. You can apply if you are eligible and have completed your junior year of high school in June. It is a highly competitive program and you should strive to achieve the best grades and performance possible in school.
Students seeking an opportunity to improve their standardized test scores can take advantage of the March2Success program. We generally seek students who are academic achievers, active in athletics, and serve in leadership positions. Some requirements include:
Be a US Citizen
Be between ages of 17-26
Have a HS GPA of at least 2.5
Applicants must take the SAT or ACT but there is no minimum required score
Meet physical standards
Agree to accept a commission and serve in the Army after college
Things to consider:
Please be familiar with the deadlines.
Many universities offer additional incentives to our scholarship winners. Fordham has historically offered a room waiver to our 3 and 4 year scholarship winners allowing a student to enjoy free on-campus housing.
Fordham Army ROTC scholarship winners have also enjoyed benefits such as priority registration for classes and opportunities for early move-in for their dorms.
Applying for the Army ROTC scholarship and applying for admission to college are two separate and independent processes
It is not a requirement to have been admitted to your intended school in order to accept an Army ROTC scholarship offer.
Many of our applicants are conditionally awarded scholarships prior to their notification of acceptance to a school.
Winners will have to be accepted to their intended school and pass eligibility in order to activate their scholarship award.
You can start the process and learn more about the scholarship at US Army ROTC College Scholarships for High School. If you are not selected for a scholarship you can still enroll in Army ROTC as a college first year.
High School (HS) Scholarship Interview
If you are a HS scholarship applicant and have an "interviewee" status on your application portal, you can request to schedule by emailing our Recruiting Operations Officer.
Your interview appointment is not confirmed until you receive a confirmation email response.
Interviews are conducted at Fordham Rose Hill, Fordham Lincoln Center, and at Marist College.
You may bring your resume and transcript so you can refer to it as necessary during the interview; you do not have to give it to your interviewer unless he/she requests it.
Family and applicants will have the chance to meet with a staff member and ask questions about ROTC following the interview.
You should plan to arrive on time but no earlier than 10 minutes prior to your appointment.
If you wait until the week of the deadline to schedule an interview we cannot guarantee you will be able to meet the deadline due to the large volume of applicants.
You should schedule your interview at least 1 week in advance of their preferred interview date.
HS Scholarship Winners
If you are a winner you will be notified by US Army Cadet Command (USACC).
You will receive instructions on how to accept the scholarship or request to transfer to a scholarship at another university.
Comply with instructions from USACC or Department of Defense Medical Exam Review Board (DODMERB).
Fordham Army ROTC may send you an enrollment package due in August before you start school.
Generally no other action is required.