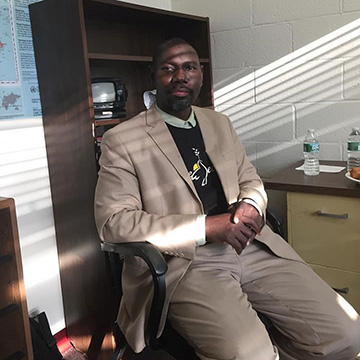 Sheikh Moussa Drammeh
The Bronx has been home to many immigrant groups over the years. Irish, Italian, Jewish, African American, and Puerto Rican families have all helped make the borough a dynamic place of intercultural exchange. Muslim immigrants from Africa, Asia, and Eastern Europe represent the latest wave of new comers striving to succeed. With incendiary international and domestic political rhetoric regarding Islam flooding all channels of mass media, Bronx Muslims face a unique challenge in their efforts to work, study, practice religion, and raise families in peace.
In an effort to better understand the issues facing the Bronx Muslim community, the Bronx African American History Project recently conducted an interview with local imam Sheikh Moussa Drammeh at Fordham University and participated in a Bronx Muslim Leaders Forum at the Al Iman Community Center. Touching on issues such as hate/bias crimes, terrorism, current political climates, resources available for Muslim immigrants, and inter-faith initiatives, Bronx Muslim leaders delved into a wide range of topics.
Sheikh Moussa Drammeh's interview and the Bronx Muslim Leaders Forum contain a number of poignant and important thoughts to consider about the Bronx Muslim community. First, one is struck by the diversity within the Muslim community. Hailing from all parts of the globe, Bronx Muslims have a wide array of characteristics and particular cultural norms based on their land of origin and personal religious thoughts. Islam can unite as a common denominator, but there still remains an incredible amount of variation within the faith. Second, the story of Bronx Muslims is in many ways a classic New York immigrant story. The Sheikh and various speakers emphasize the desire to work hard, create businesses, construct cultural institutions, and build thriving neighborhoods. As a result, the Bronx has a number of revitalized and thriving working class neighborhoods. Lastly, one can see the beginnings of a vocal political collective of passionate Muslim leaders who care deeply about the future of their neighborhoods and people. Most importantly, like many immigrant groups before them, they are learning how to navigate the complexity of local New York City politics in order to improve their situation.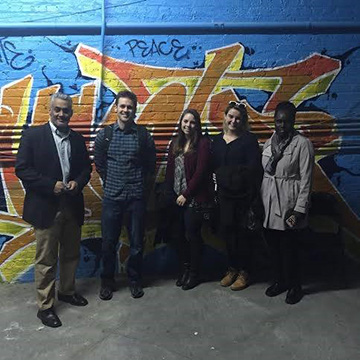 Left to right: Aldo Perez, Damien Strecker, Andrea Benintendi, Morgan Mungerson, Dr. Jane Edward
Perhaps most encouraging though, in addition to being strong advocates for their local interests, Bronx Muslim leaders show a strong propensity towards ecumenical and interfaith dialogue. Sheikh Moussa Drammeh shares the mosque with local Jewish residents on Fridays. When one group finishes their Friday service, the other group files in and conducts their service. Muslim and Jewish community members also share dinner together on Fridays in the name of peace and cooperation.
The work and daily lives of thousands of Bronx Muslims from all over the world directly contradict the current polarizing anti-Muslim political rhetoric. Like generations of immigrants before them, Muslim immigrants in the Bronx are striving for educational and economic success and the right to enjoy these achievements in peace.
Damien Strecker
Research Assistant-Bronx African American History Project
March 8, 2016

April 15, 2016