Fordham College at Lincoln Center Academics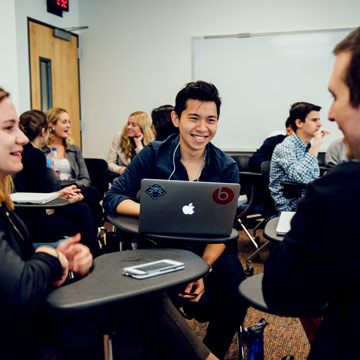 Our students engage in a traditionally strong Fordham education founded on a challenging core curriculum and enriched by the resources of Manhattan. A freshman seminar and a senior seminar in values frame the core curriculum. Interdisciplinary courses help students make connections among the various disciplines. Dedicated faculty encourage students to confront the most pressing critical and ethical questions in the study of such subjects as: English, philosophy, theology, history, political science, natural science, economics, and psychology. Extensive facilities allow students to pursue majors in visual arts, theatre, music, communications, and dance.
Fordham College at Lincoln Center's community-service programs and community-engaged learning seminars afford students the opportunity to learn outside the traditional classroom and to act with compassion in the tradition of cura personalis. In serving the disenfranchised of New York, programs like Urban Plunge and Global Outreach serve the students as well, helping them to sort through the compelling issues of modern life: those of justice, equality, diversity, faith, and human dignity.
We invite you to explore how Fordham College at Lincoln Center's history, faculty, academic programs, facilities, and services all work to support the best qualities and values in our students.
Our Key Location Enriches Academic Life
Fordham College at Lincoln Center is the dynamic liberal arts college on Fordham's attractive and self-contained campus at the cultural and communications crossroads of Manhattan.
The first Fordham school in Manhattan was founded in 1847, and Fordham schools evolved through locations in Chelsea, lower Manhattan, and, since 1968, the Lincoln Square neighborhood. Our neighbors include:
Lincoln Center for the Performing Arts

Metropolitan Opera
New York Philharmonic
New York City Ballet

CBS and ABC Television
Time Warner Center
Central Park
The Juilliard School
Alvin Ailey American Dance Theater
Our Connection to the City Enhances Practical Learning
Fordham College at Lincoln Center is a close-knit intellectual and creative community of faculty and students. We combine a traditionally strong Fordham liberal arts education with the innovative instructional and pre-professional opportunities readily available at our key location. We are near the world's most remarkable concentration of artistic, cultural, media, commercial, and nonprofit institutions.
The college's urban location also allows students to confront the pressing social and ethical questions of modern life: issues of justice, equality, community, diversity, faith and human dignity. Opportunities for community service and community engaged learning are readily available. The social work and education programs immerse students in the work of the city. All seniors participate in a seminar on values and moral choices. Combining the resources of New York City with those of Fordham's Lincoln Center and Rose Hill campuses allows Fordham College at Lincoln Center students to experience unrivaled educational opportunities as the 21st century unfolds.