Lincoln Center Campus History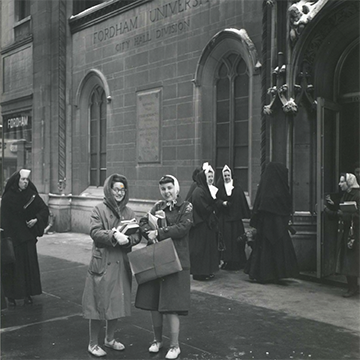 Fordham at 302 Broadway
Fordham in Manhattan, 1847
While Fordham College at Lincoln Center was founded in 1968, the college has a lengthy prehistory, dating to the mid-19th century. In September 1847, the University opened a school on Manhattan's Lower East Side near the edge of the notorious Five Points neighborhood. A devastating fire just a few months later forced the new school to move to the basement of St. James Catholic Church. In the following years, the school operated in the East Village, on West 15th Street from 1850, and by the early 20th century, the Woolworth Building, then the world's tallest building, from 1916 to 1943. Then the Vincent Building at 302 Broadway served as the home for Fordham in Manhattan from 1943 to 1968.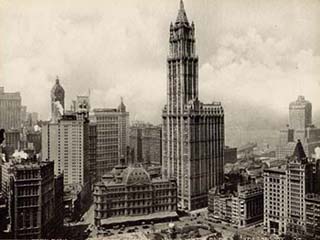 Fordham at Woolworth Building
Fordham College at Lincoln Center, 1968
In 1955, Fordham was the first city institution to commit to be part of the Lincoln Square Renewal Project, an effort to revitalize the city's west side with a new performing arts complex that would become the Lincoln Center for the Performing Arts. In 1961, Fordham Law School was the first building to open as part of the renewal project, and in 1968, Fordham College at Lincoln Center welcomed its first students. In 1969, the University opened the Lowenstein Center, which became home to Fordham College at Lincoln Center. Since 1968, the school's name has changed from "The Liberal Arts College" to "The College at Lincoln Center" to "Fordham College at Lincoln Center." In 1993, a 20-story residence hall, McMahon Hall, was added to the campus, along with other campus improvements.
Fordham College at Lincoln Center, 21st Century
During the last 45 years, the college has had a remarkable record of achievement, including alumni who have gone on to outstanding careers as stars of stage and screen, as writers and producers, as financial and business leaders, as practitioners of law, medicine, and religion, and as political and civic leaders. In 2014, Fordham opened a state-of-the-art residence hall on the 11th through 22nd floor of McKeon Hall. McKeon Hall, with its towering views of Manhattan and surrounding areas, is specifically designed to foster community among its residents, the first-year class. In 2017 the Lincoln Center campus unveiled a new bronze ram statue designed to mirror the one located on the Rose Hill campus. Both statues were created by sculptor Harry M. Stierwalt Jr. and display the beloved Fordham ram mascot.