Honor Societies at Lincoln Center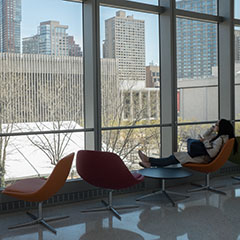 Honor Societies are organizations for students of high academic achievement and are intended to bring together like-minded individuals with high scholastic standards and interests.
Many honor societies invite students to become members based on the scholastic rank and grade point averages of those students, either overall, or for classes taken within the discipline for which the honor society provides recognition. In cases where academic achievement would not be an appropriate criterion for membership, other standards are usually required for membership. It is also common for a scholastic honor society to add a criterion relating to the character of the student.
Some honor societies are invitation only while others allow unsolicited applications. Membership in an honor society might be considered exclusive. Please contact each Honor Society for specifics on membership requirements.
Some of the benefits of honor society membership include:
Recognition for outstanding academic achievement
Invitations to attend conferences, both locally and nationally
Special notations on official transcripts
Leverage for competing for additional scholarships and acceptance to graduate or professional programs
Distinction at graduation ceremonies and the privilege of wearing honors regalia with your cap and gown
Opportunities to expand leadership and organizational skills through activities, events, and projects
Support for your high scholastic standards