At the heart of Fordham College Lincoln Center's academic program is the core curriculum.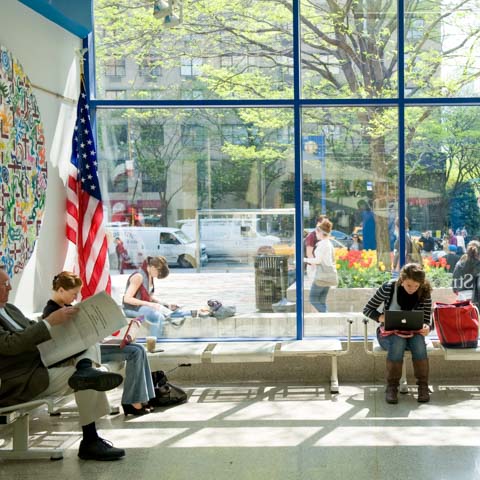 These courses are designed to nurture curiosity, inspire a love of learning and provide you with the foundation needed to engage in lifelong learning. In every core course, you think, speak, write, and act in fundamentally new ways, with a broadened appreciation for human values and a deepened commitment to the world. At its heart, is the practice of Eloquentia Perfecta, where students learn right use of reason joined to cultivate expression.
The Core Courses:
Expose you to new intellectual vistas
Enhance your understanding of ways of knowing within academic disciplines
Allow you to make connections among various disciplines
Develop writing, research, and quantitative and analytical skills
As a Jesuit university, Fordham helps you shape habits of heart and mind that are the hallmarks of liberally educated men and women. Our core curriculum blends reverence for tradition with openness to new challenges, and new ways of knowing and engaging the world.
The common core curriculum includes:
Two courses of English composition and literature
Two courses of philosophy, two of theology, and two of the natural sciences
One introductory course each in history and the social sciences
Two additional courses in literature, history, or the social sciences, followed by a capstone course
One course each in mathematics and the fine arts
Foreign language up to an advanced level except for students in the sciences
Courses on American pluralism and global studies
Four Eloquentia Perfecta seminars, including a capstone Senior Seminar
The core is spread out over four years, with most courses the first two years. More details can be found in the Undergraduate Bulletin.