Majors and Minors at Lincoln Center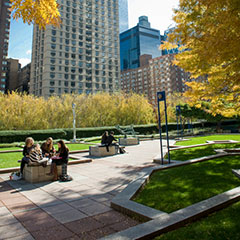 The college offers majors in the humanities, social sciences, and interdisciplinary natural sciences, as well as outstanding programs in theatre, dance, visual arts, music, education, and social work. A vast array of internship opportunities, including in our new signature program for paid Serving the City internships, enable students to connect real-world experience to their academic learning, and make the most of the unparalleled opportunities New York City offers. Through our affiliation with The Ailey School, our students study at one of the country's premier schools of dance.
Thanks to our shared Manhattan campus, many students take advantage of Fordham's comprehensive offerings, such as combined undergraduate / graduate programs offered jointly with Fordham's schools of Business, Law, Education, Social Services, and Graduate School of Arts and Sciences, as well as undergraduate minors offered through Fordham's highly-ranked Gabelli School of Business. Distinguished authors, actors, politicians, and intellectuals regularly enrich the life of the college with talks and seminars.
Declaring a Major and Minor
To declare a major, you must submit a Major Declaration Form which should be submitted to the Associate Chair of the Department you wish to join. The form will then be sent to Academic Records to be processed and applied to your Degreeworks. To declare a minor, you must submit a Minor Declaration Form and follow the same steps listed above.
*All majors are also available as minors, except for Dance, Integrative Neuroscience, and Natural Science. Please check each major's link for information about their accompanying minor.
**Majors with an asterisk are available to students on both campuses, but certain required courses may only be offered at the campus indicated in parenthesis. Applicants interested in pursuing one of these majors, but who wish to apply to a different campus than that listed, can seek approval from the Dean of the College after enrollment as part of freshman academic advising.
​***For Visual Arts, campus location may vary by area of study. The full major is offered at Lincoln Center. Please consult the Visual Arts Department prior to applying.