Degree Options: Major Only
Locations: Lincoln Center
Visit the Dance Department
Be at the vanguard of dance with the prestigious Ailey School near Lincoln Center, the epicenter of the dance world.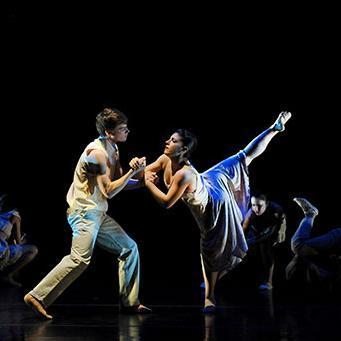 Do you remember the first time a dancer moved you? When the movement of her body seemed to become the expression of her (and your) heart, mind, and soul? We develop exceptionally talented dancers, ready to perform in any genre across today's diverse dance landscape.
We've partnered with The Ailey School, the official school of the world famous Alvin Ailey American Dance Theater, to create a highly innovative Bachelor of Fine Arts degree in dance that nurtures the vanguard of creative expression.
We offer the best of both worlds: the artistic preeminence of The Ailey School, coupled with an exceptional liberal arts education, rooted in the Jesuit tradition of academic excellence.
To join our prestigious program, you must have superior talent and potential for a dance performance career, good technique training in ballet and modern dance, musicality, energy, creativity, and the ability to communicate through movement.
You must also have strong academic credentials, including a competitive GPA, strong writing skills, and community activities.
That's because you'll learn more than dance here. You'll also study philosophy, theology, history, mathematics, languages, science, and other performing arts through Fordham's common core curriculum, the centerpiece of our liberal arts education. We want you to excel in your field—and as a human being.
In addition to existing need-based aid and merit scholarships, applicants will also be evaluated for audition-based artistic scholarships.
Ailey/Fordham BFA Program
Dance classes take place in the Professional Division at The Ailey School. You will take a rigorous core curriculum of daily classes in classical ballet, Horton, and Graham-based modern dance.

You'll also delve into a variety of other dance techniques and creative courses, such as Jazz, West African, and Improvisation.

You'll take academic classes at our Lincoln Center campus, where you'll study music, social sciences, philosophy, theology, history, foreign languages, and more.

Facilities

The Ailey School:

16 state-of-the-art dance studios
2 classrooms for dance academic classes and workshops
Ailey Citigroup Theater
Physical therapy facility and staff
Student teaching opportunities in Junior Division classes
Dance boutique and concession stand
Workshops and lectures on nutrition, healthcare, psychological wellness, and injury prevention

Fordham University:

Libraries with more than 2,200,000 volumes, hundreds of computer workstations, and a state-of-the-art electronic information center
Dedicated labs for sciences, media studies, and languages
Personal and spiritual support systems
Writing Center designed to assist students with any type of writing from their curriculum

Performance Opportunities

You can perform at the Ailey Citigroup Theater. In your senior year, you may also dance in venues around New York City.

Throughout your four years here, you'll have many opportunities to learn and perform varied repertory with renowned faculty and guest artists. Students perform both at the Ailey Citigroup Theater and at Fordham University's Pope Auditorium, with several performance opportunities per year, starting in the first year. In your senior year, which is even more heavily focused on dance performance, you will also dance in venues throughout the tri-state area as a member of the Ailey Fordham Student Dancers. Choreographers include Adam Barruch, Robert Battle, Sonia Dawkins, Joanna Kotze, and Jamar Roberts, among others.

Barre a Terre I and II
Modern
West African Dance
Improvisation
Dance Composition I and II
Repertory Workshop I and II
Anatomy and Kinesiology
Faith and Critical Reason
Philosophy of Human Nature

View the BFA Program Curriculum Overview

We develop exceptionally skilled dancers who are versatile, artistic, and technical. They're adept creators of dance movement, well educated in the liberal arts, and knowledgeable about the history and interpretation of the performing arts.

Our alumni have performed with:

Alvin Ailey American Dance Theater
Ailey II
The Metropolitan Opera
Ballet Hispanico
Carolyn Dorfman Dance
Complexions Contemporary Ballet
Cirque de Soleil
Martha Graham Dance Company
Minnesota Dance Theater & Dance Institute
Ronald K. Brown/EVIDENCE, A Dance Company
Newsies! on Broadway
The Addams Family on Broadway
Royal Caribbean Cruise Lines

You also get access to our powerful (and Fordham-loyal) network of alumni, who want to see you succeed as they have.
Learn More About the Dance Degree