French and Francophone Studies
Degree Options: Major, Minor
Locations: Lincoln Center, Rose Hill
Visit the French Department
The French Studies major is for committed Francophiles with an independent streak and the passion to see their ideas through.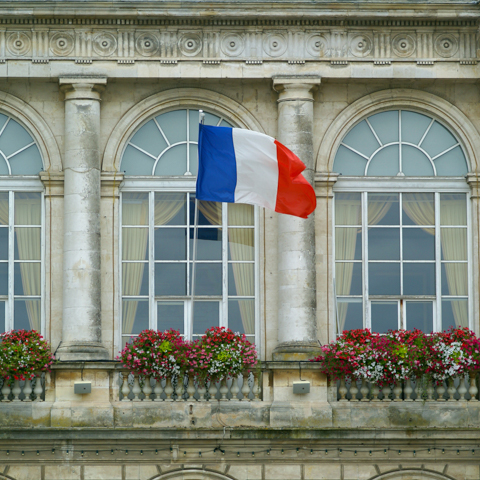 274 millions French speakers worldwide in 2014, and over 700 millions expected by 2050! Be one of them and learn a language spoken on five continents.
French Studies is an individualized, interdisciplinary course of study based in the Department of Modern Languages and Literatures. Working closely with a faculty advisor, you will design a rigorous course of study that fits your passions and ambitions.
Here at Fordham, majoring in French goes beyond the classroom as you will find many opportunities to immerse yourself in French in a rich and diverse Francophone cultural presence right here in New York City. You can also choose from a wide range of study abroad programs and spend a semester or a year studying and living in a Francophone country.
We draw on a long Jesuit tradition of scholarship on and respect for the world's diverse languages and cultures-and virtually all of them are in New York City. From cultural events to people on the streets, New York City is your classroom for learning French.
You'll learn more than French area studies here. You'll also study philosophy, theology, economics, mathematics, ethics, science, and the performing arts through Fordham's common core curriculum, the centerpiece of our liberal arts education.
We want you to excel in your field-and as a human being.
As a French Studies major, you take 10 required courses and electives. It's an individualized, interdisciplinary major, so tailor a track to fit your interests. Here is a selection of tracks pursued by students in the past:

French and Visual Arts/Theater
French and Religion/Theology
French and Women's Studies
France and Europe
France and Modernity
Francophonie (Middle East/Maghreb)
Francophonie (Africa)
Francophonie (Global)

We have two Language Learning Centers for solo studying or collaboration with classmates:

Language Learning Center at Rose Hill: a state-of-the-art, multi-use, interactive digital language laboratory with 54 self-contained computer stations equipped with the most up-to-date audio, recording, and film viewing technology.
Olga M. Ficarra/Francis J. Morison Language Laboratory at Lincoln Center: a multi-use, interactive, computer-based facility with 25 student work stations equipped with CD, audio, video, and DVD capabilities.

Study Abroad

We highly encourage you to spend a summer, semester, or year studying in a Francophone country.

Explore Paris's art, literature and culture—and receive credits toward your French degree—in the summer study class "The Flâneur in Paris," taught by Prof. Andrew H. Clark.

Find many other ways to immerse yourself in Francophone language and culture through Fordham's International and Study Abroad Program. Choose from a wide range of courses taught in French.

Student Clubs

La Société Francaise (Lincoln Center) exposes you to the French and Francophone cultures of New York City through programs and activities.
Le Cercle Français (Rose Hill) encourages you to speak French and socialize with your fellow Francophiles through food, movies, current events, and celebrations.

Honor Society

Pi Delta Phi, the national honor society for outstanding undergraduate and graduate scholarship in French language and literature, has an active chapter at Rose Hill.

The New Wave Arrives!
Francophone Middle East
Le Flâneur à Paris
Women on the Margins in 19th-C France
Contemporary French Philosophy
Postcolonial Representations
Culture & Science in France
Québecois Literature
Francophone African Cinemas
France & the Global Enlightenment

With advanced proficiency in speaking and writing French, as well as an extensive literary and cultural preparation, you will be well-equipped to earn advanced degrees in various fields and pursue a wide range of careers. Wherever French is spoken, there may be a role for you.

Our graduates have earned advanced degrees in:

French Studies
Comparative Literature
International Affairs

They attend professional schools in:

Law
Journalism
Social Work
Education

Career opportunities will be open to you in the US, Europe and Africa, in fields as varied as:

Finance
Publishing
Nonprofit

Our career services tap Fordham's ties with more than 3,500 companies. We offer:

Post-graduation career search
Resume development, Interviewing practice
Networking skill development
Hands-on case-study sessions with industry executives
Field-specific advising/coaching

You also get access to our powerful (and Fordham-loyal) network of alumni, who want to see you succeed as they have.
Learn More About the French and Francophone Studies Degree
Visit the French Department