New Media and Digital Design
Degree Options: Major, Minor
Locations*: Lincoln Center, Rose Hill
Visit the New Media and Digital Design Department
*Available to students on both campuses, but certain required courses may only be offered at Lincoln Center. Applicants interested in pursuing the program from Rose Hill can get more information from the dean of their college after enrollment as part of first-year academic advising.​
Join the next generation of digital revolutionaries in a new interdisciplinary media program.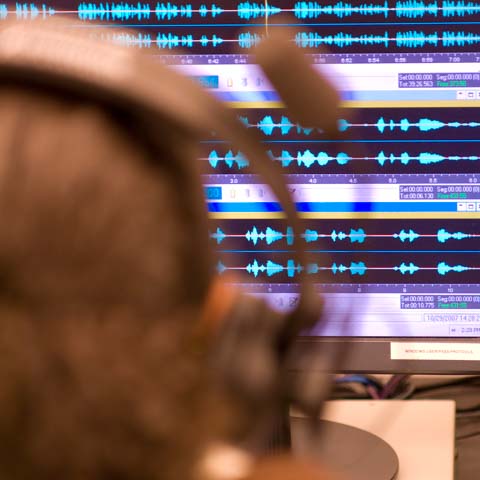 You are in the midst of digital revolution. We are discovering new media and ways to communicate seemingly every day. As a new media and digital design major, you'll join the next generation of digital leaders in a new interdisciplinary program at Fordham.
Our program combines the forces of multiple departments: communication and media studies, visual arts, English, computer and information science, and business.
You'll develop innovative technical capabilities. You'll examine the new modes of information-gathering, collaboration, democratic participation, and self-expression. You'll gain a deep social, historical, and ethical understanding of new media.
And you'll graduate ready to skillfully navigate an ever-evolving media environment.
But you'll learn more than new media and digital design here. You'll also study philosophy, theology, history, mathematics, languages, and the performing arts through Fordham's common core curriculum, the centerpiece of our liberal arts education.
We want you to excel in your field—and as a human being.
As a major in new media and digital design, you have three concentrations to choose from:

New Media and Information
Art, Text and Design
New Media and Commerce

You take 11 classes—four core courses, an ethics, new media and digital design course, and six electives.

Internships

We take advantage of our unique location at Lincoln Center, right in the heart of NYC, to connect you to New York City's thriving media industry. We think internships are so important—and often lead to jobs—that we require you to take at least one before graduation.

Fordham's Career Services offers CareerLink, database of thousands of job and internship opportunities exclusively for Fordham students.

Facilities

The Edward A. Walsh Digital Media Laboratory supports teaching, research, and production in new media, networking, and media convergence.

Designed for faculty, graduate, and undergraduate students
Mac-based lab
High-def digital cameras
Classroom for group instruction
Workroom for individualized projects and research
Production room for video, audio, and multimedia

Research

At the Donald McGannon Communication Research Center, media scholars cast a critical eye on media performance, policy, management, and ethics to understand how to sustain a media system that functions as a business while serving the public interest.

On-Campus Media

Gain practical experience on campus at:

WFUV, Fordham's Public Media
Fordham Nightly News
The Ram
The Observer

Study Abroad

Study abroad enriches you academically, culturally, and personally. There is a globe of possibilities available through Fordham's International and Study Abroad Program.

Explorations in Digital Media
Information and Data Management
Cyberspace: Ethics and Issues
Minds, Machines and Society
New Media and Sports
Digital Workshop and Tools for Creative Writers
New Media Economics and Organizations
Art, Design and Politics
Digital Photography II

You'll graduate with a deep understanding of how new media functions, how it makes meaning, and how to use it practically (and wisely) in a wide variety of professional settings.

Get a job, right? Yes, but you want more: a career. Our career services tap Fordham's ties with more than 3,500 companies. We offer:

Post-graduation career search
Resume development, Interviewing practice
Networking skill development
Hands-on case-study sessions with industry executives
Field-specific advising/coaching

You also get access to our powerful (and Fordham-loyal) alumni network, who want to see you succeed as they have.