Theology Religious Studies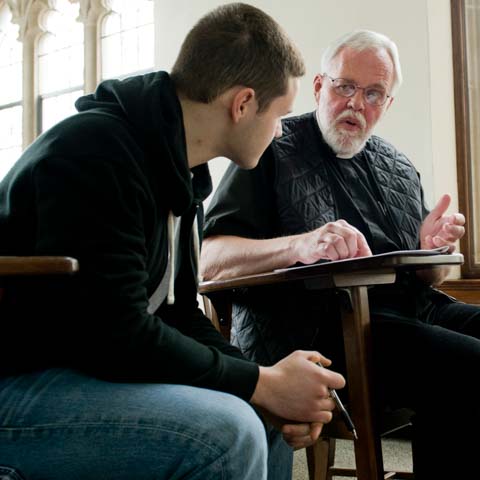 Degree Options: Major, Minor
Locations: Lincoln Center, Rose Hill
Visit the Theology Department
Think critically about questions of God, human existence, and the role of religious traditions in our lives.
What does it mean to be human? How shall we live? What does it mean to believe in (or reject) the existence of God? Why are there so many religions? As a theology major at Fordham, you'll explore these profound questions through an intellectually sophisticated engagement with the Christian tradition in dialogue with other faiths.
In light of Fordham's Jesuit heritage, our program focuses on the rich diversity within the Catholic tradition. You'll discover, interpret, and understand the evolving beliefs and practices of Christianity through a variety of disciplines, including history, philosophy, and literature. Your coursework will emphasize the mutual influence of faith and culture historically and in the present.
You'll make connections between the world's religious and moral teachings and the realities of social injustice, which are widely on display in New York City. You'll confront these contradictions both morally and practically through service to others.
You'll learn more than theology here. You'll also study philosophy, literature, art, history, mathematics, languages, sciences, and the performing arts through Fordham's common core curriculum, the centerpiece of our liberal arts education.
We want you to excel in your field—and as a human being.
As a theology major, you take 10 classes covering foundational study in three disciplines:

Biblical Studies
Historical Theology
Systematic Theology

Our five-year accelerated MA program allows theology majors to attain both a bachelor's degree and a master's degree in theology in five years.

Fordham's Career Services offers CareerLink, a database of thousands of job and internship opportunities exclusively for Fordham students.

Facilities

The Fordham Center on Religion and Culture sponsors a range of public events at our Lincoln Center campus where scholars explore the complex relationship between religious faith and contemporary culture.

The Francis and Ann Curran Center for American Catholic Studies hosts national conferences, public lectures, fora and readings, academic seminars and conversations, and publishes both scholarly and imaginative works.

We host a chapter of Theta Alpha Kappa, the national honor society in theology and religious studies.

Every semester, we offer many program activities, including:

Guest speakers
Movie series
Musical events
Monthly faculty seminars
Study trips
Informal gatherings with faculty
Retreats
Museum visits

Study Abroad

Study abroad enriches you academically, culturally, and personally. There is a globe of possibilities available through Fordham's International and Study Abroad Program.

Service Learning

Many theology students explore the core Jesuit concept of homines pro aliis—"men and women for others"—through service learning opportunities at the Center for Community Engaged Learning. Here you'll connect service, justice, community, and spirituality.

Sin and Salvation in Medieval Theology
The Torah
The Gospel of John
The Jesus of History
The Bible and Social Justice
Hindu Literature and Ethics
Classic Buddhist Texts
Latino and Latina Theology
Theologies of Sexuality and Gender
Cappadocian Theology
Orthodox Christian Ethics
Human Nature After Darwin
Wartime Religion in U.S. History
God and Evils

A degree in theology teaches you to read critically and carefully, argue positions soundly, and communicate ideas clearly. These are invaluable skills in the job market and prerequisites for advanced study in any field.

While some of our majors pursue advanced graduate work in theology or religion, other students go on to have meaningful and successful careers in:

Law
Business
Nonprofit sector
Medicine

Get a job, right? Yes, but you want more: a career. Our career services tap Fordham's ties with more than 3,500 companies. We offer:

Post-graduation career search
Resume development, Interviewing practice
Networking skill development
Hands-on case-study sessions with industry executives
Field-specific advising/coaching

You also get access to our powerful (and Fordham-loyal) alumni network, who want to see you succeed as they have.