Degree Options: Major, Minor
Locations: Lincoln Center, Rose Hill
Visit the Political Science Department
"Democracy is when the indigent, and not the men of property, are the rulers." — Aristotle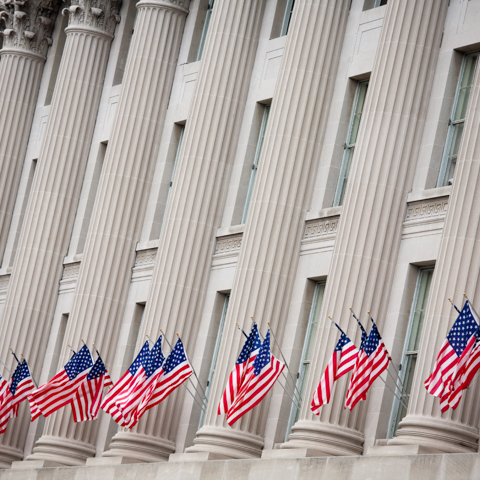 What is justice? Why do nations go to war? Why do people vote? As a political science major at Fordham, you'll study how societies make collective decisions through politics and government. From Aristotle to Spinoza, the U.S. to China, you'll explore both political theory and practice from a diversity of perspectives.
You will study one of four concentrations—American politics, comparative politics, international politics, or political theory—with faculty who are active, award-winning scholars in the field of political science. We prepare you to think independently, tolerate a diversity of viewpoints, engage with current political affairs (both at home and abroad), and critically analyze the relationship between personal values and public life.
You'll also hone your skills in writing, communication, and analytical thought.
These are all core components of a Jesuit liberal arts education at Fordham.
But you'll learn more than political science here. You'll also study philosophy, literature, theology, art, history, mathematics, languages, sciences, and the performing arts through Fordham's common core curriculum, the centerpiece of our liberal arts education.
We want you to excel in your field—and as a human being.
As a political science major, you take 10 classes. There are four subfields to choose from:

American Politics
Comparative Politics
International Politics
Political Theory

Internships

The political science department has formal arrangements for semester-long internship experiences off campus:

Internship in New York State Legislature
Washington (D.C.) Semester Program, in affiliation with American University

We also help you identify and compete successfully for internships across the city and our majors have landed rewarding placements at dozens of institutions and organizations.

Fordham's Career Services offers Handshake, database of thousands of job and internship opportunities exclusively for Fordham students.

Events

Every semester, we offer a range of programs and activities, including:

Faculty Brown Bag Series
Undergraduate Brown Bag Series
Forum on American Politics
Pizza and Politics Series

Some recent events include:

Forum on American Politics, Professor Sean Theriault, University of Texas, Austin, "The Gingrich Senators and Party Polarization in the U.S. Senate"
Forum on American Politics, Thomas Craemer (University of Connecticut), "Measuring Implicit Racial Attitudes: the Case of Slavery Reparations"

Pi Sigma Alpha

We host the Delta Zeta chapter of Pi Sigma Alpha, the national political science honor society. Our faculty members select high-achieving juniors and seniors for induction into this honor society, and we sponsor annual programming related to it.

Study Abroad

Study abroad enriches you academically, culturally, and personally. There is a world of possibilities available through Fordham's International and Study Abroad Program.

American Politics

City Politics
Civil Rights and Liberties
Religion and American Politics
Voting Behavior and Elections

Comparative Politics

Islamic Political Thought
Liberalism and Its Critics
Modern Political Thought
Political Ideologies

A degree in political science prepares you for several career options. Many choose to go on to law school, a traditional career path for political science majors. Others find careers in:

Government agencies
News organizations
Private sector

Get a job, right? Yes, but you want more: a career. Our career services tap Fordham's ties with more than 2,600 companies. We offer:

Post-graduation career search
Resume development, Interviewing practice
Networking skill development
Hands-on case-study sessions with industry executives
Field-specific advising/coaching

You also get access to our powerful (and Fordham-loyal) alumni network, who want to see you succeed as they have.