Degree Options: Major Only
Locations: Lincoln Center, Rose Hill
Visit the International Studies Department
It's time to use your gifts in service of the world.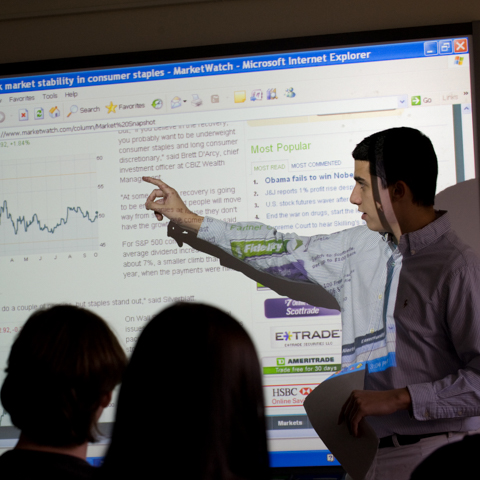 Live, work, and prosper in our rapidly changing world. The international studies major at Fordham is as globetrotting, dynamic, interdisciplinary, and intercultural as you aim to be. Our cosmopolitan education is steeped in a higher mission. We prepare you for a life well-lived using your gifts in the service of the world.
Our program is rigorous—and full of choice. You will complete a specific core of foundational international courses in politics, law, economics, history, and culture, and then choose one of three tracks of specialized study. You'll combine classroom learning with internships and study abroad.
You will master the political, economic, environmental, historic, cultural, and sociological dynamics that drive modern life. And then what? Will you work to alleviate poverty? Promote justice? Protect human rights? Respect the environment?
It's time to get started.
Our program reflects Fordham's Jesuit tradition of respect for other cultures, the dignity of each unique person, and the development of the student as a whole person.
That's why you'll learn more than international studies here. You'll also study philosophy, theology, history, literature, mathematics, languages, science, and the performing arts through Fordham's common core curriculum, the centerpiece of our liberal arts education.
We want you to excel in your field—and as a human being.
There are three concentrations:

International Expertise: analyze international affairs from a global perspective
Regional Expertise: specialize in a region of your own choosing
Specialist Expertise: address important issues and draw comparisons across national, cultural, and regional borders. By application only.

Internships

Internship opportunities are abundant in New York City, a global capital. What's more, many internships lead to jobs for many of our international studies graduates.

Study Abroad

There's no better way to deepen your understanding of the world than through study abroad. There is a whole globe of study abroad possibilities available through Fordham's International and Study Abroad Program.

Throughout the year we sponsor:

Lectures
Conferences
Study tours abroad
Educational events

International Expertise

Anthropology of Religion
Economics of Energy
Revolution

Regional Expertise

Women in Africa
East Asian Cities
Education and State in Latin America

Specialist Expertise

International Human Rights
Terrorism and Society
Politics of the European Union

International studies prepares students for graduate study and careers in:

Business
Law
Diplomacy
Education
Government
Public service
International organizations
Nongovernmental organizations
Public interest advocacy groups
Journalism

Looking for advice from an international studies graduate? We'll connect you with our powerful (and Fordham-loyal) network of alumni, who want to see you succeed as they have.